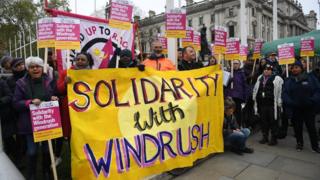 MPs have voted against an opposition motion calling on the government to disclose papers on Windrush migrants.
Labour had hoped to force the government to release documents about its immigration policy relating to people who came to the UK from Commonwealth countries.
They arrived between the late 1940s and 1970s but some have been threatened with deportation in recent years.
MPs vote against Windrush disclosures
The government won the vote by 316 votes to 221.
Labour wanted the government to be made to hand over evidence, including emails and text messages, for scrutiny by MPs on the Home Affairs Committee.
Shadow home secretary Diane Abbott described the vote as "an opportunity for the Tories to start to right the wrongs they have done to the Windrush generation".
She accused Theresa May of ordering her MPs to "vote to cover up the truth of her involvement".
Ms Abbot said many people felt "all roads lead back to the prime minister", with Mrs May having previously been home secretary at the time the government brought in changes to immigration rules in 2014.
The prime minister has announced that an upcoming review will have full access to the information.
Home Secretary Sajid Javid said the government's review would have "independent oversight and challenge" and aimed to understand how members of the Windrush generation "came to be entangled in measures designed for illegal immigrants".
He added that complying with the motion would have seen officials taken away from helping and supporting people affected by Windrush cases.
Many Windrush migrants who came to the UK as children have no formal documentation, which has also led to them being refused jobs or healthcare in recent years.
People born in Jamaica and other Caribbean countries are thought to be more affected than those from other Commonwealth nations, as they were more likely to arrive on their parents' passports without their own ID documents.