MPs criticise 'unrealistic' MoD plans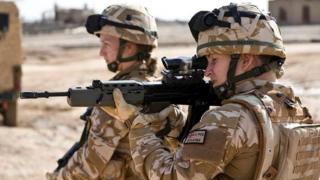 Ministry of Defence spending plans are simply "not realistic" and could be more than £20bn over budget, the Commons spending watchdog says.
It criticises the department for not being "open" about the shortfall and relying on "optimistic saving targets".
"The Ministry of Defence simply does not have enough money to buy all the equipment it says it needs," MPs say.
The MoD said MPs were highlighting an "unlikely worst-case scenario" and it was "on track" to meet savings targets.
The department plans to spend almost £180bn on new military equipment over the next decade, including new submarines, warships and aircraft.
But the Commons public accounts committee has warned of a "worrying" funding gap, with forecast costs of at least £4.9bn and potentially up to £20.8bn, leaving it without sufficient funds to buy all the equipment.
The biggest risk to the £180bn equipment plan is the rising costs of renewing the Trident nuclear weapons system. The committee was concerned that a need to bring forward some of the cost of building the next generation of nuclear missile submarines would put an extra strain on the budget.
The MoD itself was criticised for lacking "cost control", a "vagueness and reluctance to acknowledge its full exposure", not being open about its financial risks and for putting its faith in a defence review – the Modernising Defence Programme – to "solve its affordability issues".
'Highly sceptical'
"We are highly sceptical that the Modernising Defence Programme will be able to return the department to a balanced position," the report says.
There was also some concern that the bulk of planned spending was on large-scale programmes that take years to build – leaving little headroom in the budget for responding to new threats like cyber attacks and artificial intelligence.
Committee chairwoman Meg Hillier said there was "no excuse" for the MoD's "lack of rigour in its financial affairs".
"The department must be more rigorous and realistic in its approach to costing its equipment plan. It also needs to be more open with Parliament and the public about its finances, commitments and their costs to taxpayers.
"We heard a lot in evidence about the Modernising Defence Programme but I am concerned this may end up adding more costs to what is already an overstretched budget," the report said.
The MoD said it had already made £7.9bn of savings out of its £16bn target and was working on publishing a "more accessible account" of its planned equipment spending up to 2028 by the autumn.
A spokesman said: "We are committed to delivering large, complex and technologically challenging defence programmes as part of our £180bn plan to give our military the very best equipment.
"We recognise financial risk comes with that, but the potential affordability gap highlighted by this report reflects an unlikely, worst-case scenario in which all possibilities materialise.
"We are on track to meet our £16bn savings target and will also review these recommendations as part of our Modernising Defence Programme, which aims to strengthen our armed forces in the face of intensifying threats."