Motorised shed hits 100mph to break speed record at Pendine Sands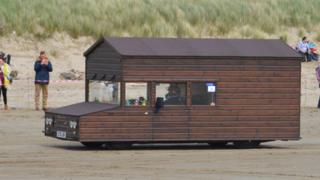 A souped-up motorised shed has broken its own land speed record on a Welsh beach as it hit 100mph.
The Fastest Shed smashed its previous 80mph (129km/h) record for the fastest shed at a land speed event at Pendine Sands in Carmarthenshire on Saturday.
Owner Kevin Nicks said it was "marvellous" to hit 101mph (160 km/h) in what he said was the only road legal motorised shed in the world.
"It couldn't have gone better, I'm so happy," said the 53-year-old gardener.
Mr Nicks, from Chipping Norton in Oxfordshire, spent more than £13,000 creating his bespoke shed on wheels, which now boasts a turbo-charged 400 brake horsepower engine that is more powerful than many sports cars.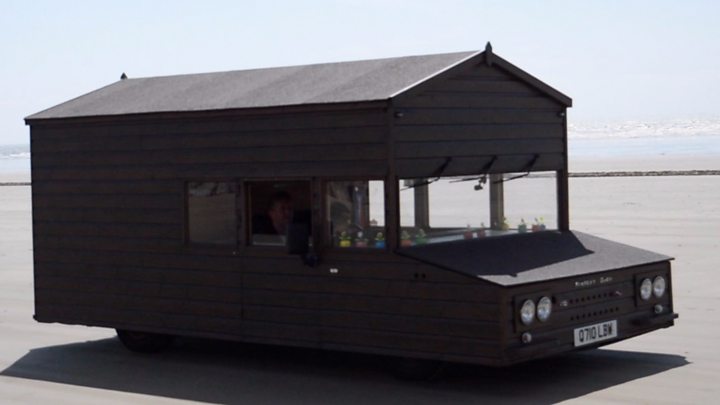 He first had the idea of creating a shed on wheels in 2015 when his old Volkswagen Passat lay broken on his drive – and he thought: "Let's see if I can do something a little different."
The father-of-one initially spent £5,000 and 12 months making it roadworthy so he could "take his daughter to school and pop to the shops".
"I did everything, build the shed, connected the engine, build the chassis," said Mr Nicks, who lives in the same village as motoring broadcaster Jeremy Clarkson.
"The only thing I didn't do was felt the roof! I then thought 'I wonder how fast it could go'?
"I entered a few speed events and basically floored it. I hit 80mph to break the record, including the Guinness record. But it blew up so it needed some work."
Now two years and 20,000 miles later, Mr Nicks has splashed out an estimated £8,000 on revamping the shed with a finely-tuned Audi RS4 engine.
"I've spent all winter doing it up and putting in a new engine and suspension, it's so quick off the mark.
"I had no idea how fast it would go – and it went well. It felt comfortable at 100mph, I was pleased."
Mr Nicks said it was a "magical moment" breaking the record at Pendine, a beach which has become synonymous with land speed attempts since Sir Malcolm Campbell broke the record in the legendary Bluebird in the 1920s.
He was joined by a host of karts, three-wheelers and the most powerful street legal motorbikes as they hope to break the UK record of 194.5mph (313 km/h).
Superbike racer Zef Eisenberg will also attempt to break the land-speed record – and the 200mph barrier – on sand on his supercharged Suzuki Hayabusa.
"Pendine Sands is a notoriously difficult race track," said Eisenberg. "Competitors have no idea what the surface is like until the tide goes out.
"It's not just the high-end engineering that makes breaking records on Pendine Sands difficult. As Pendine is a Ministry of Defence test fire site, you'll often end up encountering unexploded ordinances alongside giant washed-up jellyfish."
Eisenberg, from Guernsey, almost died after breaking the land speed record for a turbine bike 18 months ago as he crashed at 230mph (370km/h) and was in hospital for three months.
"No one in history, car or bike has ever exceeded 200mph on the sand at Pendine," he added.
"It's the holy grail of speed, where the best speed racers in the world have tried."