Mother who was run over twice by attacker: 'I thought I had died'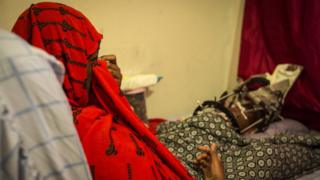 In September last year, a 21-year-old man deliberately drove his car at a woman, and, having knocked her to the ground, returned to do so again. Left with life-changing injuries, Zaynab Hussein, who is still recovering, has spoken to the BBC about life before and after this horrific incident.
Mrs Hussein, a mother of nine, had just dropped her two youngest children off at school in Leicester when a car mounted the pavement and ploughed into her.
The 47-year-old was thrown against a nearby wall and fell to the ground after hitting her head. As she lay helpless, her assailant performed a U-turn, and, noting that she was still alive, made a second attack.
He mounted the pavement and drove over her with all four wheels.
Man jailed for Leicester hate crime car attack
Reliving the events of the day, Mrs Hussein said that when she was hit the first time she "started feeling sick and dizzy".
"Since no-one was helping me, I thought I would help myself. I tried to reach for my phone and as I was looking for it, he came back a second time."
The injuries sustained from the second blow have left her confined to bed for the past six months.
She has been receiving specialist treatment to heal and mend the severe fractures to her pelvis, spine and limbs.
"My leg has been destroyed in a way that you wouldn't think is humanly possible. It is entirely crushed. I had skin and muscle tissue removed from [my thigh] to patch my leg together," she said.
"My [right] forearm snapped in half and folded in on itself so that my fingers were touching my elbow crease."
Recalling the attack, Mrs Hussein remembers falling into unconsciousness and fearing her life was about to end.
She struggles to hold back the tears: "I was screaming 'help me, help me!' to people but no-one came – everyone just left me to it.
"When he hit me again, I could hear people saying 'oh my God, he is back'… They were just watching me.
"I became conscious again when I was in the ambulance. My son was called from college and he was with me. I heard him crying and that's what brought me back.
"I thought I had died, so I wasn't expecting to become conscious again. I couldn't believe that I was alive."
The most difficult thing for Mrs Hussein to come to terms with is the loss of her independence.
The youngest of her children is aged just three.
"I was someone who was raising her children, who was working and did everything for herself."
Now, she struggles to look after herself. Simple tasks such as using the lavatory are a challenge when no-one is around to help.
"I can't raise [my leg]. When I'm forced to go to the toilet by myself, I drag my damaged leg on the floor behind me. Sometimes I can't get up at all, so they put a pot with a chair in the room for me."
Good memories erased
All of the good memories from her adopted home city are now overshadowed by a darkness.
Prior to the attack, Mrs Hussein had lived a quiet life with family, in Leicester.
After escaping violence and instability in Somalia, she had moved to the East Midlands city in 2003 and worked as a cleaner.
"I was happy and loved it here. I've experienced something that has made me forget all the good memories," she said.
She finds it incomprehensible someone could harm a complete stranger for no reason.
"I didn't do anything to him. He didn't know me, I didn't know him. I wasn't crossing the road. He hit me because he felt like it. It was arrogance… there was no other motive than to hurt me.
"If someone hits you once – it is horrible, but you can tell yourself it might have been an accident or a mistake. For him to come back a second time… that was very hard."
Mrs Hussein's attack was treated as a hate crime and her assailant, Paul Moore, also from Leicester, was found guilty of attempted murder, at Nottingham Crown Court in February.
Jurors also convicted him of the attempted grievous bodily harm of a 12-year-old Somali girl – he tried to drive at the schoolgirl, who was wearing a headscarf, moments after Mrs Hussein's attack.
Moore, 21, has been jailed for a minimum of 20 years.
At his trial, his half-brother, Lewis Welsh, said Moore had used racist terms to describe the attack afterwards.
"I don't think he knew what he was saying or doing. But he did tell me that he had ran over a 'Paki'," he said.
"He tried to put it down to the London 7/7 bombings. He said he was proud of himself. He was rambling. He was doing the country a favour."
'Everyone should be protected'
Mrs Hussein believes Moore's attack was inspired by Islamophobia.
"He was looking for [points to her headscarf]. If we're being honest, that's what he was after. There were lots of other people he could've hurt – it was a busy time – but he sought out people with headscarves."
Moving forward, she says the only thing that matters to her is that an attack like this should never happen again.
"I don't want any other human being to experience what I have been through," she said.
"To cruelly make someone, who was healthy, disabled within a matter of minutes is something that I wouldn't want to happen to anyone – not even the person who hit me.
"Everyone – no matter their race, religion or whatever they are – should be protected from this."