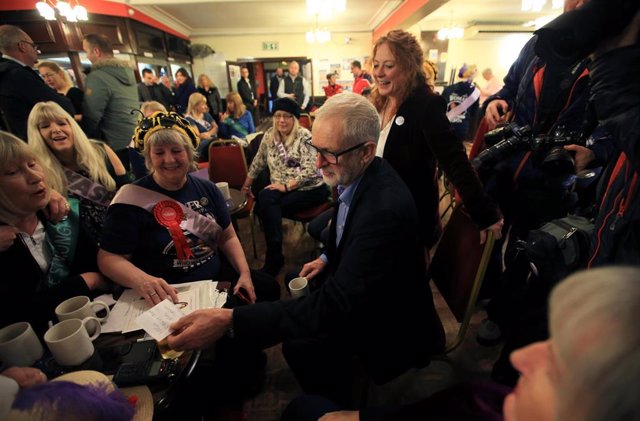 The leader of the Labor Party, Jeremy Corbyn, visits militants of his training in northeast Derbyshire. – REUTERS / JON SUPER
LONDON 26 (Reuters / EP)
Since the elections were announced four weeks ago, more than two million people under 35 have registered to vote in the December 12 elections in the United Kingdom, before the deadline that the British government set for midnight of this Tuesday.
The result of next month's elections, which remains uncertain, will most likely determine, according to politicians and statesmen, how, when and if even the United Kingdom leaves the European Union. The conservatives of the Prime Minister of the United Kingdom, Boris Johnson, stand ahead in opinion polls, however, the most recent show some wear on their leadership.
Government data has shown that almost 3.2 million young people have applied to register to vote since October 29, when the elections were called. Of these, almost 1.2 million are under 25 years old, while about 966,000 are between 25 and 34 years old.
On the other hand, the Electoral Commission of the United Kingdom has detailed that one in three young people between 18 and 19 are not registered to vote. "Also the private tenants, anyone who has recently moved, people without a fixed address and those of some black and Asian communities, it is likely that many of them are not registered," explained the director of Communications, Policies and Research the Election Commission, Craig Westwood.
For his part, since Johnson decided to advance the elections, Labor Party leader Jeremy Corbyn has been encouraging and encouraging the British to register, particularly young voters who are generally more likely to support their party.
"The dishonest owners are registered to vote. The bad bosses are registered to vote. And the super rich who have manipulated the system are registered to vote. And you?", He has directly questioned the British on Tuesday through his account on the social network Twitter.
On October 30, the House of Commons approved, with 438 votes in favor against only 20 against, to advance the general elections following the proposal of Prime Minister Boris Johson.
The British will go to the polls on December 12 and although there is great uncertainty regarding the results, analysts and politicians agree that the results will surely express the feeling of citizenship in relation to the exit of the kingdom of the European Union.
"There is only one way to complete Brexit, in the face of this tirelessly obstructive Parliament," Johnson said during his speech at the House debate. "Faced with this endless and stubborn effort to refuse to obey the popular mandate, we can only renew this Parliament and return the voice to citizens," he said in reference to the result of the referendum that supported the exit of the European Union, held in 2016.