More than nine out of ten African migrants arriving in Europe would return to travel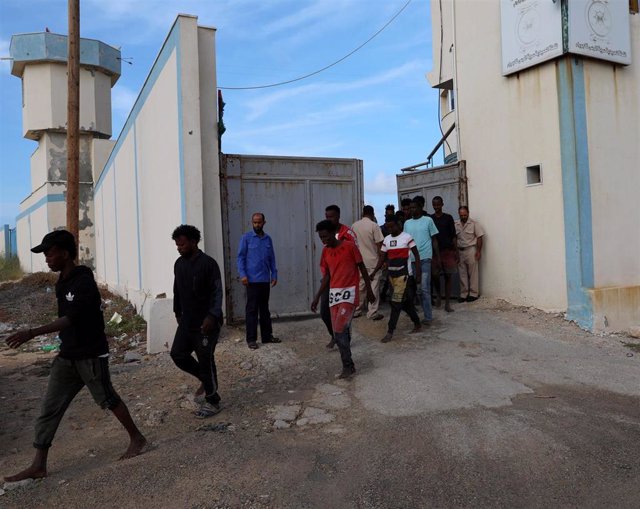 Migrants released at a Libyan Coast Guard center in Tripoli – REUTERS / ISMAIL ZETOUNI
"What kind of father would I be if I had stayed and couldn't give my family a decent life?" Yerima tells UNDP
MADRID, Oct. 21 (EUROPE PRESS) –
93 percent of African migrants who have traveled irregularly to Europe would be willing to take the road again, even being aware of the dangers that this entails, according to a study by the UN Development Program (UNDP), which has called a "critical debate" about this type of phenomena.
The report, prepared from interviews with migrants from 39 African countries spread across 13 European states, elaborates a common profile of these 1,970 people, who share having arrived in Europe illegally and not for reasons of asylum or protection, but with a objective of personal and economic development.
All this despite the fact that they are people who did not necessarily live in situations of poverty, since 58 percent of them had a job or studied at the time they decided to leave their country. Most of them, in fact, worked and earned relatively competitive salaries, according to the UN agency.
Around 53 percent of the people interviewed acknowledge that they received help from family or friends to undertake the trip and three out of four send remittances to their countries to help their closest environment, although this may mean that their quality is worse of life.
Half say they don't earn enough, 38 percent say they enter just enough and only 12 percent reach the savings level. For many of them, the shame of not being able to send enough money to their families is the main factor in continuing to work in Europe.
"If you have a family, you have to make sure they have food, shelter, medicine and education," explains Yerima, father of a small girl. "People could ask me what kind of father I am to leave my wife and daughter behind. But what kind of father would I be if I had stayed and couldn't give them a decent life?" He asks.
DIFFERENCES BETWEEN MEN AND WOMEN
The report, however, detects differences between men and women, and not in the same sense as in Africa. If women originally earn an average of 26 percent less than men, in Europe the balance is reversed and 11 percent more than male migrants.
They also send remittances more frequently and are more settled in terms of accommodation than men, according to the UNDP, which attributes this difference to the tendency of women to travel with the family and to the greater aid they receive, especially if they have any children. in charge, by the European administrations.
"LOOK AT THE CAUSES" OF MIGRATIONS
The UNDP administrator, Achim Steiner, sees in the report "an echo of progress in Africa's development", unable to "fulfill the aspirations of the population." In fact, the aspirational aspect is one of the most cited reasons among those who have emigrated, behind economic motivations and learning.
Serge, one of the testimonies of this report, has urged to "look at the causes" that are behind the migrations, since he considers that it is precisely "the policies that trap people in poverty" that barely leave an alternative to thousands of people. "Schools that do not exist, a failed health and corruption, repression. That is what pushes people to emigrate," he emphasizes.
Only 2 percent of the people interviewed say that, now being aware of the risks, they would not undertake the trip again. However, there are many who, like Mahamadou, still hope to return to their countries of origin, something that in his case he hopes to do in five years' time: "And when I return to my country, I do not think I will return."