More than 850,000 people have already participated in the Citizen Consultation for constitutional reform in Chile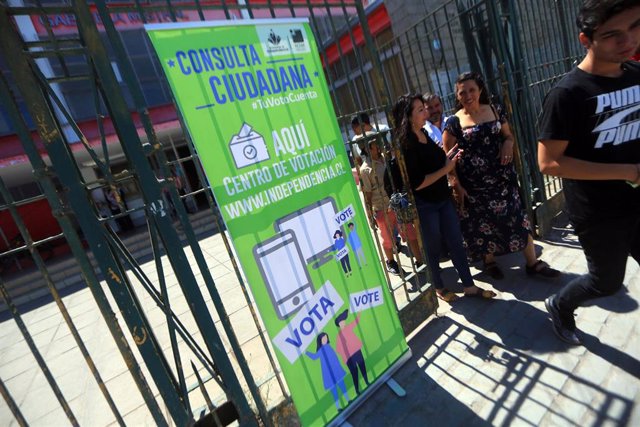 Citizen consultation voting in Independencia, Chile – JOSE FRANCISCO ZUÑIGA / AGENCIAUNO / JOSE FRANCISCO
SANTIAGO, Dec. 15 (Agency One / EP) –
More than 850,000 people have participated so far in the Citizen Consultation agreed by the Chilean political parties in the framework of the constitutional reform agreed upon after the wave of protests shaking Chile. The authorities expect that about two million people vote in this consultation held in several weeks in different municipalities of the country and that however is not binding.
The Chilean Association of Municipalities (AChM) has explained that the votes of 850,000 people have already been counted in a consultation that has three ballots: an institutional one, where Constitution and mandatory voting issues are consulted; one of social agenda and a third staff, where he asks about aspects related to the corresponding commune.
"We are very happy, we wanted to generate a wide space for participation, we just need to participate, because we have made all the means available for people to vote," said Mayor Germán Codina, president of the AChM.
Puente Alto, Las Condes, Viña del Mar, Valparaíso and Ñuñoa are the communes with the most votes electronically so far. Of these, Ñuñoa records the highest electoral roll with 25 percent. Regarding the votes in tables, calculations are not yet delivered, although 100 percent of the tables are constituted.
Another 25 municipalities will carry out the voting next weekend, bringing a total of 250 communes to participate in the citizen consultation.
Chilean President Sebastián Piñera declared a state of emergency in response to the massive protests that erupted on October 17 against the fourth rise in the price of the subway in a few months. Protesters quickly assumed other social demands, denouncing inequality and demanding constitutional reform.