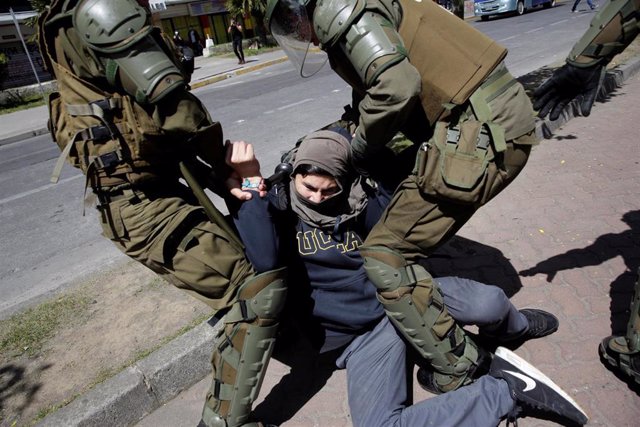 Members of the Carabineros corps detain a protester during the protests that are taking place in different cities of Chile in the last month. – REUTERS / JUAN GONZALEZ
HRW denounces "serious human rights violations that cannot go unpunished"
MADRID, Nov. 26 (EUROPE PRESS) –
The National Prosecutor's Office of Chile has reported on Tuesday that there are 2,670 investigations open for the alleged violations of Human Rights committed by police to suppress the protests that have shaken the country in the last month.
The new balance published by the public body has specified that 422 of the victims are minors and 41 are foreigners. 116 crimes have also been reported that undermine sexual dignity and integrity.
Likewise, the Public Ministry has collected 720 cases of firearm injuries and 44 of torture, as the Chilean newspaper 'El Mercurio' has spread.
In addition, 1,820 cases of human rights violations have been reported on public roads, 241 in police and military units, and even 45 cases occurred in private homes.
The bulk of the complaints fall on the body of Carabineros, with 2,052 complaints, while the Army would be involved in 183 cases. The Police and the Navy are the other law enforcement officers involved in these violations.
URGENT REFORM OF SECURITY BODIES
The report of the Chilean Prosecutor's Office has coincided with that of Human Rights Watch (HRW), which was already delivered to the president of Chile, Sebastián Piñera, when the NGO met him on Tuesday.
HRW has requested an "urgent" reform of Chilean police institutions after having detected "serious violations of Human Rights", such as "excessive use of force" and "abuses against protesters, bystanders and detainees."
"There are hundreds of complaints about the excessive use of force in the streets and abuses against detainees, such as beatings and sexual abuse that cannot go unpunished," said the director of Human Rights Watch for America, José Miguel Vivanco.
The organization has reported that "it has collected consistent evidence that the Carabineros body used force excessively in response to protests and wounded thousands of people, regardless of whether they had participated in violent acts or not."
MANIFESTATIONS IN CHILE
The protests in Chile have already fulfilled more than a month, after the citizens decided to take to the streets before the fourth rise in the price of the subway. They were joined by groups that in turn claimed social and labor improvements, as well as education and health.
Although they have lowered their intensity in the early days, where there have been 20 deaths and thousands of wounded and detained after clashes with the police, actions on the street persist, generating temporary closures of metro stations and transport delays public.
After the fruitless first measures to quell the demonstrations using the security forces, the president of Chile, Sebastián Piñera, has now tried to count on the support of the different political forces of the country to reform the Constitution and accommodate the largest number of social claims.