More than 1,600 Syrians have fled to Iraq after the start of the Turkish offensive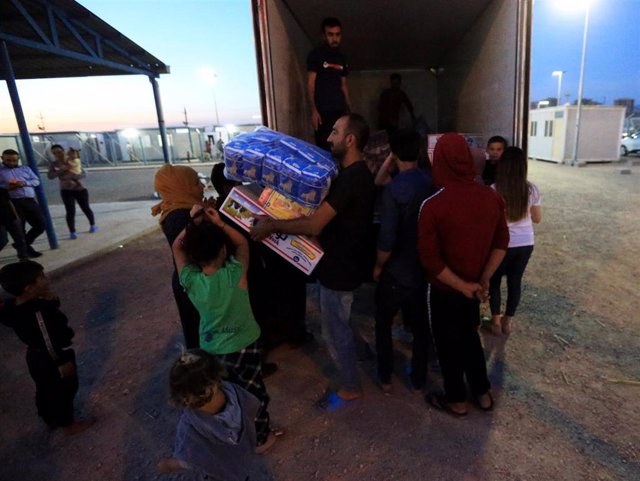 Aid delivery to Syrian refugees in the Domiz camp, outside Dohuk (Iraq) – REUTERS / ARI JALAL
MADRID, Oct. 18 (EUROPE PRESS) –
More than 1,600 Syrians have crossed into Iraqi territory since Turkey began its military offensive on Kurdish militias in northeastern Syria on October 9, according to the UN High Commissioner for Refugees (UNHCR), which has urged respect the population and civil infrastructure before the escalation of the conflict.
The agency has served every day "hundreds" of people who have crossed into the neighboring country to escape the violence, mainly from the cities of Kobani, Amoda and Qamishli and other surrounding areas. For the most part they are women, children and the elderly and, according to UNHCR, arrive in Iraq after several days on the road.
"The newly arrived refugees tell our team that it has taken them several days to reach the border after fleeing the bombings and fighting," explained UNHCR spokesman Andrej Mahecic, who has confirmed that, in general terms, they present a "good" physical condition, "although some require psychosocial support."
Until this Friday morning, more than 1,600 refugees have been transferred from the border to the Bardarash camp, about 150 kilometers away and already prepared for the new arrival flow. Stores have been installed and water and sanitation systems have been improved, Mahecic said.
UNHCR also maintains its relief work in northeastern Syria, where it has assisted "almost 60,000" displaced persons, as well as another 23,000 people residing in several camps and 35,700 living in collective shelters and host communities. The UN estimates that, in the last seven days, "some 166,000 people" have had to leave their homes.
"Violence has sown chaos among civilians and has affected especially the most vulnerable," added the organization's spokesman, who has set the case of a child of 13 as an example of the instability prevailing in northeastern Syria. years of Ras al Ain, one of the most attacked locations in these first measures of offensive.
This minor "ran to save his life between the intense fighting and separated from his parents." He followed the crowd and came to a shelter in Hasaka, where a UNHCR team managed to reunite this child with his family, said the spokesman, who has asked for unhindered access for humanitarian organizations.