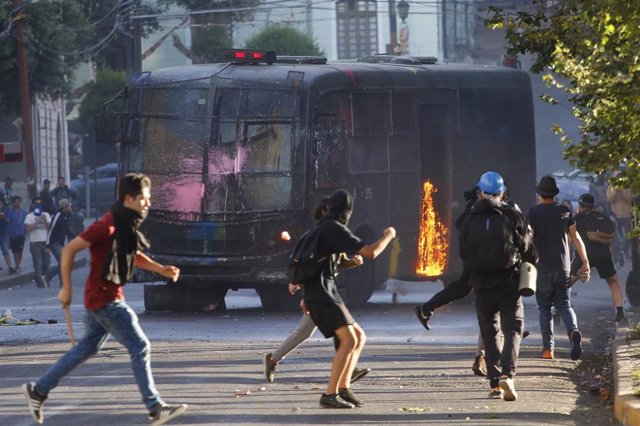 Protests in Chile. – Matias Pina / Agency One / dpa
MADRID, Dec. 29 (EUROPE PRESS) –
The Electoral Service of Chile (Servel) has informed this Saturday that a total of 14,404,405 million people are entitled to vote in the constitutional referendum of April 26, in which it will be decided whether a new Constitution is drafted and how ago, the main demand of the protesters who took to the streets in October.
Specifically, the electoral roll is composed of a total of 7,379,365 female voters and 7,025,050 men. However, the standard must still be confirmed by an audit.
The president of Chile, Sebastián Piñera, signed on Friday the decree calling for the plebiscite. The country's Congress decided to celebrate it on November 15 for Chileans to decide whether the proposal to draft a new Constitution is approved or rejected.
If he wins the option to move towards a new Magna Carta, Chileans will have to decide in the same referendum between a constituent assembly composed of citizens elected for it and an instance that includes the participation of at least 50 percent of congressmen and the other half with members elected for that purpose.
Protests in Chile broke out on October 17 against the fourth rise in the price of the subway in a few months and grew rapidly to denounce social inequality and raise the need to elaborate a new Constitution.
Piñera, who came to declare the state of emergency deploying to the Armed Forces, apologized for not hearing the clamor of the Chileans and proposed a "social agenda." To make it happen, he remodeled the Government and initiated a dialogue with the political parties, both opposition and official.
More than 20 people have died from clashes between protesters and security forces and more than a thousand have been arrested. The National Institute of Human Rights (NHRI) has denounced torture and other abuses against people detained in the context of the protests.