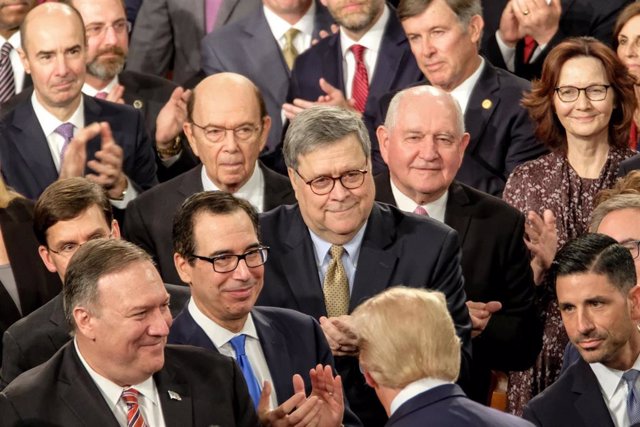 US Attorney General William Barr – Alex Wroblewski
NEW YORK, Feb. 16 (EUROPE PRESS) –
More than 1,100 former prosecutors and US Department of Justice officials have called for the resignation of the country's attorney general, William Barr, on Sunday for irregularly intervening in a criminal case by recommending a sentence reduction to Roger Stone, the strategist Republican politician and friend of the president of the United States, Donald Trump, convicted of lying to Congress and manipulating witnesses.
"Each and every one of us strongly condemns the interference of President Trump and Attorney General Barr against the administration of justice," according to the signatories, from across the US political spectrum.
Although they appreciate the criticisms made this week by Barr himself against the president, who said that his activity on social networks "makes" his work impossible, the signatories believe that "Mr. Barr's actions weighed more than his words when he decided to apply the president's orders "on the case of Stone.
Several prosecutors from the US Department of Justice proposed this week that the eccentric 'plumber' politician be sentenced to seven to nine years in prison for the charges against him.
However, the Department of Justice issued a document stating that Stone should be jailed, but asked for a minor sentence, which nullified the prosecutors' considerations. This document was issued hours after Trump criticized the sentence publicly through his Twitter account.
Barr has defended his actions. He has specified that he supports Stone's sentence, but that he thought the recommendation of a sentence of seven to nine years in jail was "excessive."
Trump, on the other hand, has not admitted to pressuring Barr to make this request, although he has qualified that he would be able to do so. "This does not mean that, as president, I am not legally entitled, although I have chosen not to," Trump said in his Twitter account this week.
The Department of Justice has not ruled on the letter, collected by the 'New York Times'.