Morales thanks the UN for its report on alleged human rights violations during the Áñez government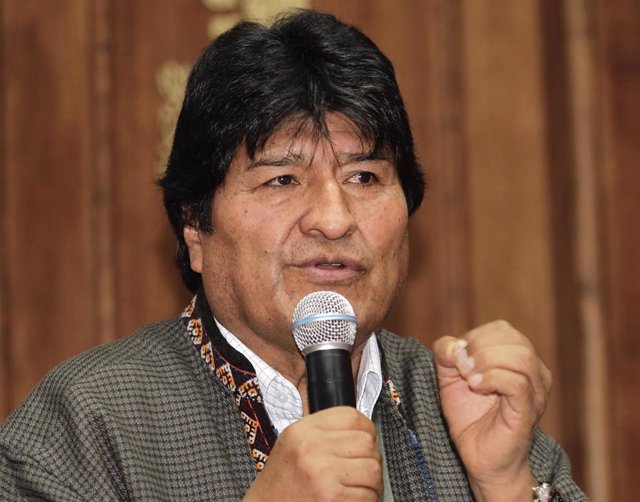 Evo Morales – Alejandro Guzmán / NOTIMEX / dpa
MADRID, Dec. 7 (EUROPE PRESS) –
The former president of Bolivia Evo Morales has thanked the United Nations High Commissioner for Human Rights for verifying acts of violence that could constitute "serious human rights violations" by the security forces during the current acting mandatory government, Jeanine Áñez , and within the framework of the episodes of violence in the country after the elections of October 20.
"I thank the United Nations High Commissioner for Human Rights for informing the world that there were serious human rights violations by the repressive government of Añez," said the president in his Twitter account.
In the three weeks that the mission has been in Bolivia, where it arrived on November 11, it has collected first-hand information on the situation of Human Rights in the country and "has documented acts of violence that occurred since October 21, some of which could constitute serious human rights violations, "the UN said in a statement.
Among them, he said, are "the tragic events that occurred in Sacaba (Cochabamba) on November 15 – where at least 9 people died – and in Senkata (El Alto) on November 19, where at least 10 people died during an intervention of the Army and the Police in the context of demonstrations. "
"The massacres of Sacaba and Senkata will not go unpunished. Sooner or later Añez, (Interior Minister, Arturo) Murillo, as well as the military and police who dared to shoot with bullets at the people mobilized against the coup, will be hit by the justice, "Morales added.
CRISIS IN BOLIVIA
The political crisis in Bolivia broke out after the presidential elections of October 20, in which the now former president proclaimed his victory but the opposition denounced a "gigantic fraud."
The Organization of American States (OAS) has concluded in its final report that in the elections there was "malicious manipulation" and "partiality", as well as "serious irregularities", such as "lack of protection of the minutes" and the loss of "sensitive material".
Morales resigned on November 10 and fled to Mexico. Áñez, second vice president of the Senate, proclaimed herself interim president to fill the power vacuum left by the former president and the resignation of other senior officials.
Bolivia is now preparing to hold new elections in which neither Morales nor his vice president, Álvaro García Linera, will be able to participate, according to the agreement to which his party, the Movement To Socialism (MAS), and the Government of Áñez have arrived in the Congress.