Morales refuses to resign after calling new elections in Bolivia and avoids confirming his political future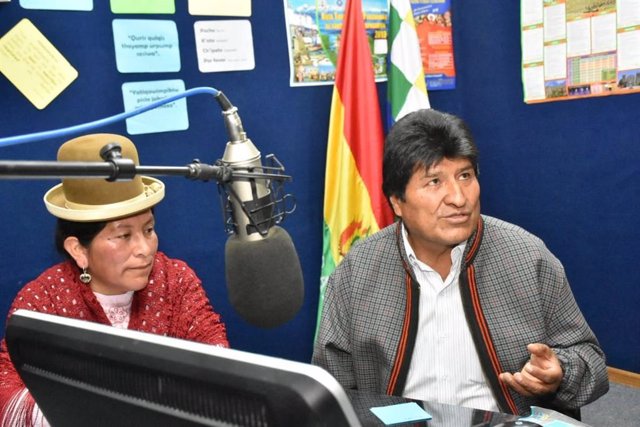 The president of Bolivia, Evo Morales – ABI
MADRID, Nov. 10 (EUROPE PRESS) –
The president of Bolivia, Evo Morales, has insisted this Sunday that he will not resign from his position at the head of the country in an interview granted to Pan American Radio after declaring new elections after the negative report of the Organization of American States, although he has not specified whether will appear again as a candidate.
"The candidacies are secondary at this time, the country must first be pacified," said the president in front of the voices that demand his resignation.
Morales has also insisted on the coup character he has conferred for weeks to part of the protests unleashed in the country after the elections. "Those who insinuate my resignation are with the coup d'etat," said the president after recalling that he is playing a "constitutional role" that "ends on January 22" in 2020.
Regarding social tension Morales believes that, with the declaration of new elections "there are no longer grounds for stoppages or mobilizations" for which he has called for the immediate return to calm.
"Everyone's task is to pacify, pray for pacification, use the Bible to avoid confrontation between Bolivians," he added.
Soon after, in a message posted on his official Twitter social network account, Morales has insisted on his eagerness to reassure the population.
"Sisters and brothers I ask to lower the tension, we have the obligation to pacify Bolivia. I make a call to respect between families, private property, authorities and social sectors; all we have in Bolivia is the heritage of the people," he wrote President.
"By calling for new national elections," he added, "we guarantee that the people freely, democratically and peacefully, by voting, elect their new authorities by incorporating the new political actors," he explained.
"My request to the Bolivian people is to guarantee peaceful coexistence and end violence for the good of all. We cannot be confronted between Bolivian brothers," concludes the president's message.