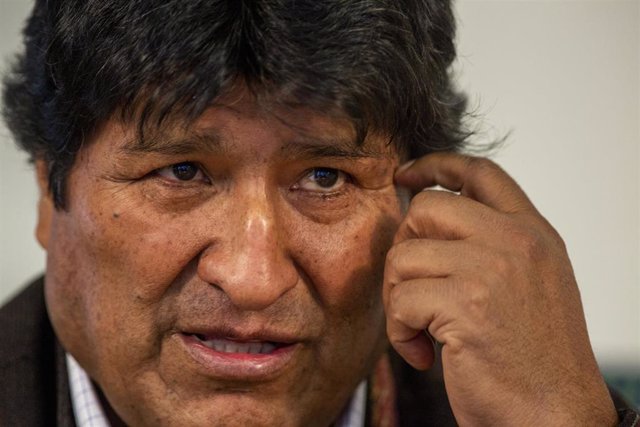 Evo Morales, former president of Bolivia – Jair Cabrera Torres / dpa
MADRID, Nov. 23 (EUROPE PRESS) –
The former president of Bolivia, Evo Morales, has denounced new "persecutions" against the leaders of his Movement to Socialism (MAS) party, including the "no evidence" detention of the formation's vice president, Gerardo García, and accusations against his daughter , of a defamatory nature, by the authorities of the country.
"The persecution of leaders continues," Morales wrote in his Twitter account. "Without evidence or legal arguments, they arrested Gerardo García, vice president of the MAS-IPSP, the Executive of the FUL (Local University Federation) of the UMSS (Universidad Mayor de San Simón), Carlos Juchani and announced an arrest warrant against Wilma Alanoca" , He has written.
This Thursday it was learned that the Prosecutor's Office had ordered the arrest García, and issued a search and capture order for the former Communication Minister, Wilma Alanoca, and the director of the Agency for Electronic Government and Information Technology (AGETIC), Andrés Laguna.
"Stop illegal and unfair detentions," Morales has asked, who has absolutely denied accusations of illicit enrichment made against his daughter Evaliz. "One more sample of the lie and the defamations to which the de facto regime goes. I demand that you present a proof of the supposed 'illicit enrichment' What else will you invent to try to defenestrate us!" He wrote.
Morales resigned on November 10 after the Organization of American States (OAS) confirmed "irregularities" in the presidential elections on October 20, whose official results granted him a fourth term.
Days later he arrived in Mexico, where he is in the capacity of political asylum. The former tenant of the Burned Palace denounces that he has been the victim of a "coup d'etat" and, consequently, does not recognize his interim successor, Jeanine Áñez.
In this month of protests, more than 20 people have died and more than 700 have been injured. The great conflict in El Alto has prevented fueling La Paz, which has generated a shortage of basic products, including food.