Morales denounces an "illegal" arrest warrant against him and accuses the "coup plotters" of destroying the rule of law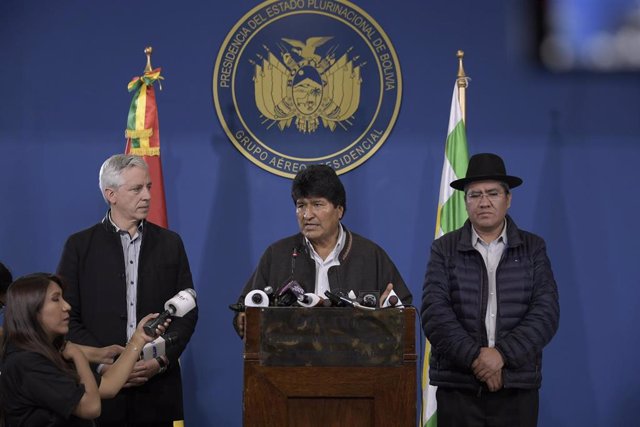 The president of Bolivia, Evo Morales – ABI
MADRID, 11 Nov. –
Evo Morales, now former president of Bolivia, has denounced this late Sunday that there is an "illegal" arrest warrant against him and has accused the "coup plotters" of destroying the rule of law of the Latin American country.
"I denounce to the world and the Bolivian people that a police officer publicly announced that he is instructed to execute an illegal arrest warrant against me," he said in his Twitter account.
In this regard, Morales has indicated that several "violent groups have assaulted his home." "The coup destroys the rule of law," he said.
Fernando Camacho, leader of the Civic Committee of Santa Cruz and the visible face of the protests that have culminated in the resignation of the Bolivian president, has confirmed the existence of said arrest warrant.
"Confirmed! Order of apprehension for Evo Morales! The police and the military are looking for him in the Chapare, place (where) he hid," he said in his account of the aforementioned social network.
Shortly before, the Minister of Health, Gabriela Montaño, had denounced that the police were trying to stop Morales in Chapare, a coca-producing region of Cochabamba, where the president is.
Likewise, Camacho has asked the citizens to continue with the stoppages and pressure measures for at least another two days and has announced that there will be trials against Morales and other authorities of his Movement to Socialism (MAS), according to the local newspaper 'Los Time'.