Morales defends that he won the elections "cleanly" and says that Bolivia is now a country of "murders and censorship"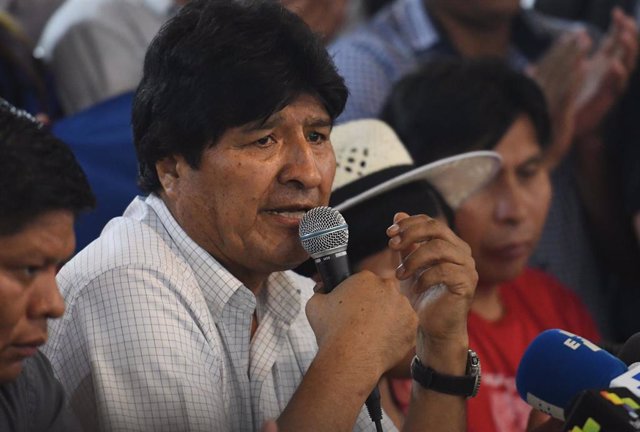 The former president of Bolivia Evo Morales. – Alfredo Luna / telam / dpa
MADRID, Jan. 22 (EUROPE PRESS) –
The former president of Bolivia Evo Morales has reiterated on Wednesday that he won the presidential elections of October 20 in a "clean" way and has warned that the country has now become a place of "murders, persecution and censorship."
"On October 20, we won the elections cleanly, no serious report states that someone's votes were taken away or that the MAS's votes were increased," Morales said before insisting they will be "fighting once again."
In a video broadcast through his account on the social network Twitter, the former leader has issued a "report of termination of mandate" from Argentina, where he has been since he left Mexico after his departure from Bolivian territory when the serious institutional crisis broke out.
"Bolivian sisters and brothers: on Plurinational State Day I address you to submit my 14-year government report and reaffirm my commitment that, very soon, we will return millions to continue demonstrating that another Bolivia is possible," he said.
Thus, he has compared various figures between 2005 and 2018 and has warned that the country has gone from being a "prosperous" place to one in which "murders" are committed, there is "persecution and censorship" and "kill, arrest and silence anyone who disagrees with the plan to return to the old years of neoliberalism. "
Morales has argued that in his almost fourteen years of management there were "more successes than mistakes" and highlighted the three million Bolivians who became part of the middle class.
"When we affect the privileges of those who have everything, of those who feel they own a country, they are willing to do everything. They have no country, they have pockets," said the former president, who resigned on November 10 amid strong protests "They won't scare us," he has sentenced.
The cocalero leader plans to intervene in an event that will take place in a neighborhood of Bueno Aires, the capital of Argentina, this Wednesday night. However, it has indicated that the recording will be broadcast in several demonstrations called by followers of the Movement to Socialism (MAS) in the Bolivian towns of El Alto and Cochabamba.
Morales's resignation came after the Organization of American States (OAS) detected "irregularities" in the electoral process, thereby confirming the "gigantic fraud" that the Bolivian opposition had denounced.
The indigenous leader considers that he is the victim of a "coup d'etat" because he resigned after the Armed Forces and the Police suggested. At first he fled to Mexico but, after a brief stay in Cuba, he arrived in Argentina, where he is a refugee.
The MAS of Morales and the new ruling party reached an agreement in Congress to hold new presidential elections on May 3 by expressly vetoing Morales, so he will limit himself to directing the campaign from Buenos Aires.