Morales calls the OAS "neo-coup" and warns other leaders: "Take care of the OAS"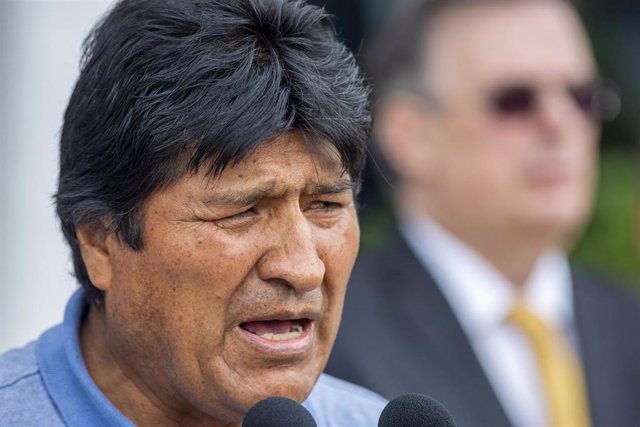 The former president of Bolivia Evo Morales – Jair Cabrera Torres / dpa
MADRID, Nov. 13 (EUROPE PRESS) –
The former Bolivian president Evo Morales has labeled the Organization of American States (OAS) as a "neo-coup" for confirming the irregularities denounced by the opposition in the elections of October 20, which according to official results had given him a fourth term, advising to other Latin American leaders who "take care" of the OAS.
"The OAS is a neo-coup for me," Morales said in an interview granted Wednesday to the Colombian radio station W Radio. "Unfortunately, the OAS has joined that coup d'etat. I recommend (…) to the new politicians in Latin America: Take care of the OAS," he added.
In addition, she has again rejected the self-proclamation of opposition senator Jeanine Añez as interim president. "Bolivia suffers an assault on the power of the people," he denounced hours earlier via Twitter.
The indigenous leader has considered that at this time "the only way out" to "recover democracy" in the Andean nation is to respect the Constitution and social movements.
Thus, he has asked the Armed Forces and the Police, which he also blames for this alleged assault, that "they don't put a bullet in the town." "I have equipped the Armed Forces not against the people … but to defend their country," he stressed.
Bolivia is in deep crisis since the presidential elections of October 20. The official results gave Morales the victory, but the opposition candidate Carlos Mesa denounced a "gigantic fraud" of the Government.
Both sides called for the mobilization of their supporters, which resulted in clashes, blockades and looting that have resulted in at least seven dead and hundreds of detainees.
In this context, Morales agreed to the OAS to conduct an electoral audit that has finally confirmed irregularities. In response, the still president agreed to hold new elections, despite which the uniformed claimed his departure from the Burned Palace.
Morales resigned on the same Sunday and Monday night (local time) embarked on a plane to Mexico, where he arrived Tuesday as a political asylum. "As long as I have life, we continue in politics," he has already proclaimed on Mexican soil.
The resignation of Morales has left a power vacuum because the people called to succeed him, according to the Constitution – the vice president and the presidents of Sendo and Chamber of Deputies, in this order – also resigned. Añez, second vice president of the Senate, has proclaimed interim president without the support of Congress, which has not achieved quorum because the official parliamentarians have refused to attend the Legislative Assembly.