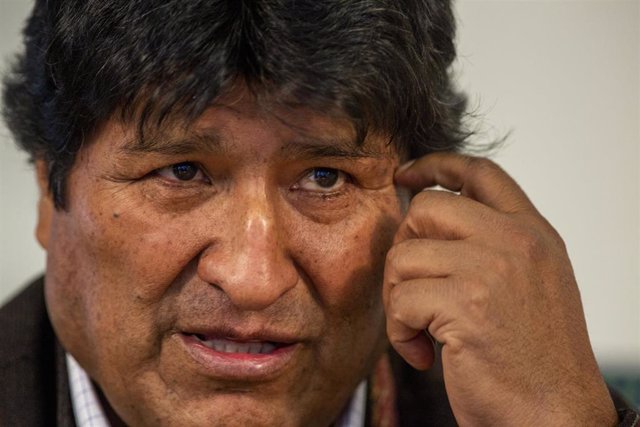 Former Bolivian President Evo Morales – Jair Cabrera Torres / dpa
MADRID, 12 Dec. –
Former Bolivian President Evo Morales has arrived in Argentina on Thursday to remain a "refugee," as reported by the country's new Foreign Minister, Felipe Solá.
Solá has said that Morales has arrived in Argentina in a secret operation from Cuba, where he traveled last week from Mexico for medical reasons, as revealed by the indigenous leader.
"He has just arrived … He is here to stay," said Solá in an interview with the Argentine channel TN. Morales has arrived accompanied by his former vice president Álvaro García Linera and former ministers Gabriela Montaño and Diego Pary.
The Argentine Foreign Minister explained that Morales has entered as an asylum, status that was granted "last night" by the Ministry of Foreign Affairs, although his intention is to ask for refuge, a condition granted by the Ministry of Interior and that "is regulated", to difference from the first.
"The (shelter) regulation requires a series of guidelines," he said. Specifically, the Argentine authorities have claimed Morales "the commitment not to make political statements."
Morales' pronouncements were a problem during his stay in Mexico. The Government of Andrés Manuel López Obrador received several complaints from the Executive of the self-proclaimed interim president of Bolivia, Jeanine Áñez, for this reason.
Morales resigned on November 10 after the Organization of American States (OAS) detected "irregularities" in the presidential elections held on October 20.
At first he settled in Mexico as a political asylum seeker, although he had asked the elected president of Argentina, Alberto Fernández, to be able to stay in the southern nation, where his two children, Evaliz and Álvaro, arrived last month, according to the local press
Questioned about why Mexico has changed Argentina, Solá has replied that "he feels better here", arguing that geographically he is closer to Bolivia – "When he can enter, he will enter" – and that "his two children are as university students ".
Fernández, a 'Kirchnerist' candidate, took office on December 10, ending Mauricio Macri's mandate, in the antipodal policies of Morales, which is why the former Bolivian president would have waited for the change of tenant at the Casa Rosada.