Morales accuses the Government of á ñ ez of trying to "silence" the presidential candidate of the MAS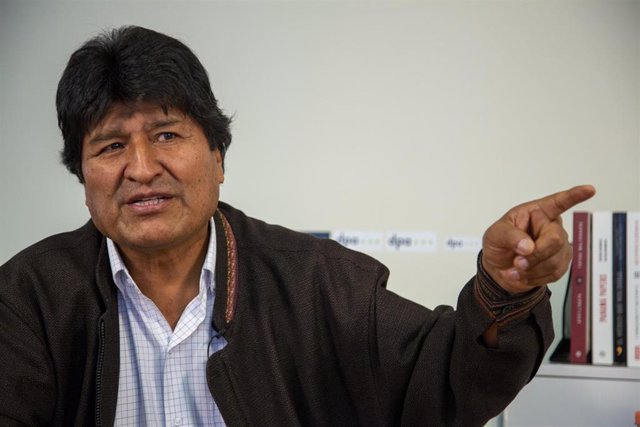 Former Bolivian President Evo Morales – Jair Cabrera Torres / dpa – Archive
MADRID, Jan. 7 (EUROPE PRESS) –
Former Bolivian President Evo Morales has accused the defense minister, Fernando López, of trying to "silence" Andrónico Rodríguez, a candidate for the Movement to Socialism (MAS) of the indigenous leader, to the presidential elections on May 3,
"Defense Minister 'de facto', Fernando López, man of (Luis Fernando) Camacho, threatens to use the Armed Forces to silence the vice president of the Six Federations of the Tropic of Cochabamba, Andrónico Rodríguez," Morales said on Twitter .
In his opinion, López's threat constitutes "another evidence of the brutal dictatorship" that he has attributed to the self-proclaimed interim president, Jeanine Áñez, to former presidential candidate Carlos Mesa and Camacho, head of the Santa Cruz Civic Committee.
Lopez warned the MAS coca growers Monday that the Armed Forces "will do what they have to do" after they announced that on January 22 they would put an end to peaceful resistance to the Government of Áñez, anticipating a new stage of convulsions.
Specifically, the Minister of Defense referred to "a young leader of the MAS", referring to Rodriguez, whom he accused of continuing to speak "of hatred, war and confrontation between brothers."
Bolivia will hold general elections on May 3 after those held on October 20, which unleashed the current political crisis due to the "irregularities" detected by the Organization of American States (OAS).
Morales resigned on November 10 and settled in Mexico as a political asylum to later travel to Cuba for medical reasons. Already in December he arrived in Argentina, where he will remain as a refugee.
The MAS of Morales and his opponents reached an agreement to hold new elections, but expressly vetoed the indigenous leader as a candidate, so he will limit himself to acting as campaign manager from Buenos Aires.