Monaco Grand Prix: Daniel Ricciardo leads Red Bull one-two in Monte Carlo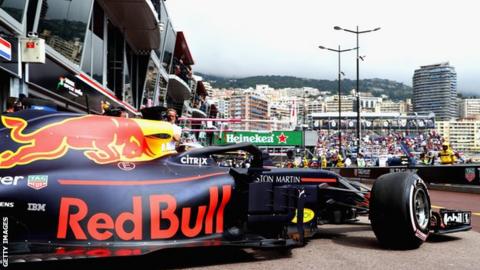 Daniel Ricciardo led Max Verstappen to a Red Bull one-two in first practice at the Monaco Grand Prix.
The Australian was 0.154 seconds quicker than Verstappen, with Mercedes' Lewis Hamilton third, 0.354secs behind.
Ferrari's Sebastian Vettel, 17 points behind Hamilton in the championship, was fourth, 0.562secs behind the Briton and ahead of team-mate Kimi Raikkonen.
Fernando Alonso had problems with his brake-by-wire system, consigning him to the garage for most of the session.
The Spaniard, who has not raced in Monaco since 2016 after taking part in the Indianapolis 500 last year, did get out for the final 10 minutes but could manage only 17th, two places behind McLaren team-mate Stoffel Vandoorne.
Renault's Carlos Sainz was best of the rest in sixth place, ahead of Hamilton's team-mate Valtteri Bottas, who did not set a quick time on the fastest hyper-soft tyres after impressing on the ultra-soft, the middle of the compound selection for this race.
Force India's Sergio Perez was eighth quickest, ahead of Haas driver Romain Grosjean, whose team-mate Kevin Magnussen was 20th after being hit by an engine problem.
And Sergey Sirotkin impressed for Williams in 10th place, the Russian rookie much more competitive than expected for a team that have struggled with their car in the first five races of the season.
Meanwhile, Verstappen was placed under investigation for rejoining the track in an unsafe manner when he ran wide at Sainte Devote.
He reversed back on to the track, forcing Raikkonen to take avoiding action on the escape road on the inside of the corner.
The stewards looked into the incident but decided he had done nothing wrong because yellow caution flags were being waved, warning other drivers of an incident ahead.
Investigation into Ferrari
Behind the scenes, there is an investigation by governing body the FIA into the Ferrari hybrid system.
The FIA has been trying to understand how the energy store delivers electrical power to the car and had concerns that the way it was set up meant it could be used in an unscrupulous way. There is no evidence, however, that this has happened.
The investigation is ongoing but the two parties are said to be converging on a solution by which the FIA will be satisfied the energy store cannot be used in a way it should not be.
There have been no changes made to the energy store yet, but some are expected in the future.
Rivals are known to be unhappy but will have to put in an official protest if they want to test its legality.