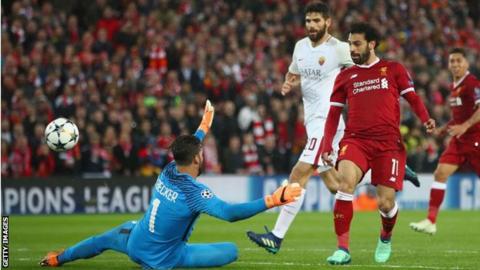 "It was like being in a Stephen King story," Maurizio Crosetti wrote in La Repubblica.
Which one he didn't specify. There are so many to choose from but Hollywood remake means 'It' comes easily to mind.
Last week at Anfield, 'It' was Mohamed Salah or, to adopt the name used by La Gazzetta dello Sport in the aftermath of Roma's 5-2 defeat by Liverpool: "Salah the ferocious".
Mohamed Salah: Liverpool's 'expensive risk' shows Roma what they could have had
Italy's sports press clearly enjoys a good horror film. In the player ratings Salah received nines across the board.
Il Corriere della Sera called his two goals "works of art", presumably thinking of Lucio Fontana, the founder of spatialism.
The terror Salah wrought and the awe he inspired was one theme prevalent in the papers. Another was regret.
Sometimes you don't know what you've got until it's gone. Roma knew Salah was a top player when they sold him last summer.
During his time in Serie A, the Egyptian was second in assists and chances created. He'd helped Edin Dzeko go from flop to Capocannoniere (Serie A's top goalscorer) and enjoy the most prolific season of any Roma player ever, bettering strikers like Gabriel Batistuta and Rudi Voller.
But if the Giallorossi had known Salah was "Ballon d'Or worthy" as every Italian newspaper declared him to be following last week's display, then it's impossible not to feel a bit of seller's remorse.
Neymar was supposed to be the player primed to break Messi and Ronaldo's 10-year grip on that award. In Italy, Juventus' graceful playmaker Paulo Dybala was proclaimed Serie A's biggest hope and likeliest recipient of the prize. Not Salah.
Within the media and among fans, there is a sense of what might have been had Roma been able to tap into Salah's potential in the way Jurgen Klopp has over the last nine months.
Improvement was to be expected. Salah is still only 25 and, together with Klopp's style, the faster, looser, more anarchic Premier League seemed tailor-made for him. It was a good fit. You could project Salah would get better. But this much better?
Inter manager Luciano Spalletti was quizzed on this at Friday's pre-match news conference on Friday. Did he expect his former Roma player to become one of the best in the world?
"He makes everything look easy," Spalletti said. "Then there's the job Klopp has done. I tried all year to get him to play more centrally and he kept going wide to get the ball. It seems to me he now understands what his starting position has to be and is drawing great benefit from it."
Of course the fee Liverpool paid now appears cheap. It was made to look that way pretty quickly. Crosetti's colleague – and the doyen of Italian sportswriting – Gianni Mura penned an editorial last week entitled "Selling him for €42m was not a [good] deal".
But that wasn't the consensus at the time.
It was considered an expensive risk. John W Henry felt it was a lot of money for a player with one year left on his contract and, as The Washington Post revealed last week, Roma's president James Pallotta obligingly bought him lunch the day after Salah's transfer was completed, thinking it was the least he could do.
Salah represented a club-record windfall and with the exception of Liverpool, there weren't many other teams "banging down the door" to sign him, Pallotta told the BBC World Service.
You feel some sympathy for Roma's sporting director Monchi, who now can't do an interview without Salah's name being mentioned. At the weekend he was asked if Salah is worth €200m? "We've spoken a lot about him," Monchi replied.
It must be frustrating for the former goalkeeper. "I've explained it 300 million times," he huffed in the mixed zone at Anfield. "If we hadn't sold Salah we perhaps wouldn't be here."
Without the sale Roma would have struggled to meet their FFP obligations. The deadline to do so was 30 June, coming before the Neymar and Ousmane Dembele transfers that changed the face of the market forever. All of a sudden, player valuations went through the roof.
Monchi had actually dragged out negotiations for as long as he could. Liverpool's initial offer for Salah pre-dated his appointment last April – the wheels were already set in motion – and with the player's mind made up to leave, all that was left to do was drive as hard a bargain as possible within the time available.
In normal circumstances persuading Liverpool to up their offer from €35m to €50m [all add-ons included] would be framed a success. But the €222m PSG later stumped up for Neymar distorted perspectives.
The inflationary pressures were significant. Salah had hardly kicked a ball for Liverpool and the CIES Football Observatory was already valuing him at €88.1m. In March they reviewed that estimate in line with his extraordinary performances, adjusting it to €162.8m.
Mohamed Salah's European club career
Team
Fee
Dates
Appearances
Goals
Figures are in all competitions. His last game for Chelsea was in January, 2015, but he was still contracted to them until joining Roma on a permanent deal in July 2016.
Basel
–
Jan 12 to Jan 14
67 (40 starts)
13
Chelsea
£11m
Jan 14 to July 16
19 (10 starts)
2
Fiorentina (loan)
–
Feb 15 to June 15
26 (20 starts)
9
Roma (loan)
–
Aug 15 to July 16
42 (39 starts)
15
Roma
£12m
July 16 to June 17
39 (35 starts)
19
Liverpool
£34m
June 17 to present
48 (45 starts)
43
Salah has been missed in Rome. Cengiz Under and Patrik Schick have big futures and promise to become superstars but it was unrealistic to expect them to step up straightaway.
It explains why Monchi made a concerted effort to replace Salah with Riyad Mahrez, only for Leicester to dig in.
After the 0-0 draw with Atletico Madrid in September, Edin Dzeko admitted he felt the Egyptian's absence. Salah set up eight goals for him last season. He would attract defenders' attention and force them back, creating space for the Bosnian and Radja Nainggolan to do damage.
Until this weekend, Roma's attack ranked fifth in Serie A with 20 fewer goals than this time last year. But Monchi's general assessment is correct.
Selling Salah and reinvesting the proceeds allowed Roma to deepen a shallow squad and break new ground in the Champions League, reaching the semis for the first time in 34 years, when the competition was known as the European Cup.
The run is worth €82m in prize money and attracted Roma's first shirt sponsor in five years, an arrangement that will bring in another €40m between now and 2021. Roma should also be back next year.
Saturday's 4-1 win against Chievo – secured with intelligent player rotation – was a big step towards qualification and the riches the Champions League has to offer.
The focus now turns to another Romantada. The Giallorossi don't need the Pope to work a miracle for them. They have done it before. It's acknowledged in a motivational message attached to the walls of the tunnel at the Stadio Olimpico: "The fact it's difficult doesn't mean it's impossible. Improbable only means that it can happen. I believe."
Let's not forget Roma beat Chelsea and Barcelona 3-0 at the Olimpico. Eusebio Di Francesco's side are still yet to concede at home in the Champions League this season.
The trouble is, Salah is used to scoring here. For him, it's like a home from home.