Ministers U-turn on housing benefit axe for 18-21-year-olds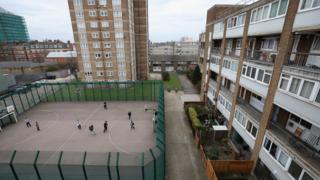 Ministers have reversed a 2014 move stopping people under the age of 21 automatically getting housing benefit.
Work and Pensions Secretary Esther McVey said the change would "reassure all young people that housing support is in place if they need it".
It was estimated that 10,000 young people would have been hit by the move.
Labour welcomed the move which it says was one of its 2017 manifesto promises, but added that young people still struggle to get affordable housing.
The Work and Pensions Secretary Esther McVey, said that in return for the benefit "young people in return will have a Youth Obligation – an intensive package of labour market support for 18-21 year-olds looking to get into work".
In a written parliamentary statement she said: "Universal Credit provides them with intensive, personalised support to move into employment, training or work experience; so no young person is left behind as they could be under the old benefits system."
She added that the decision means there are no "unintended barriers" young people trying to access housing face "on the basis of their age alone".
'Helping hand'
Although there was an exemption for parents, carers and those who cannot live with their parents, around 10,000 people were thought to have been affected by the removal of the benefit in the year since its introduction.
The removal had been criticised by charities, who claimed it added to the UK's homelessness problem.
Housing charity Shelter said young people "just need the helping hand that housing benefit can provide, so we're thrilled at the decision to provide support to all 18 to 21s if they need it".
Labour said the policy change did not go far enough, especially given that housing support levels would be frozen until 2020.
"The sight of young people sleeping on our streets has become all too common under this Conservative government. Behind the homelessness figures, there are many young adults having to sofa-surf or remain living with their parents," said Margaret Greenwood MP, the shadow work and pensions secretary.
She said that Labour would "invest in genuinely affordable housing" and "regulate the private rented sector" so that "all young people have a secure home".