Military Intelligence agents search Uncle Guaidó's house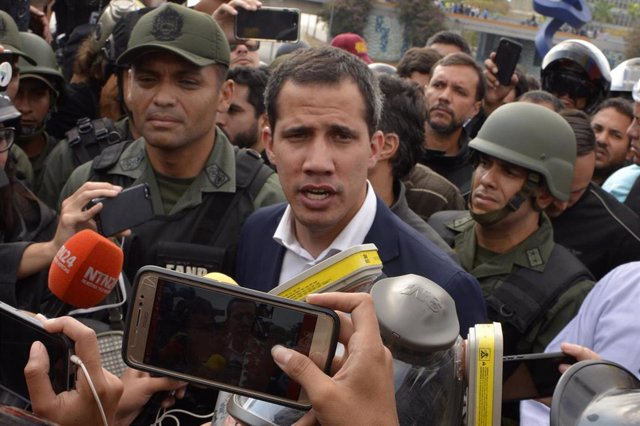 The self-proclaimed "president in charge" of Venezuela, Juan Guaidó – GETTY IMAGES / RAFAEL BRICENO – Archive
MADRID, Feb. 20 (EUROPE PRESS) –
Agents of the General Directorate of Military Counterintelligence (DGCIM) have registered on Thursday the house of Juan José Márquez, uncle of the self-proclaimed "president in charge" of Venezuela, Juan Guaidó, in the framework of the investigation against him on charges of terrorism.
"Right now, they are paving the home of Juan Márquez, uncle of the president in charge, Juan Guaidó," the National Communication Center, which acts as a press office for Guaidó, has announced on Twitter.
"We alert the world of planting that they can do at home, where only his wife and children are located," Guaidó's team warned, pointing to the possible manufacture of evidence.
Márquez's lawyer, Joel García, has said that DGCIM agents showed up at 7.15 (local time) in the house. Guaido's uncle's wife, Romina Botaro, has phoned him to be present at the register, but the agents have not let him in.
"When they do not allow … to be accompanied by their lawyer, it is because, simply and simply, they came to sow," Garcia said, in statements to the local press. Thus, it has attributed to the Government any evidence that DGCIM says it has found in this registry.
Guaidó's wife, Fabiana Rosales, has reproached Maduro that the Military Intelligence has appeared "at dawn" in the house of "a woman alone, defenseless, with her children." "It is a crude attack of the regime," he denounced.
Rosales has been sure that Maduro's intention is to "break" the will of Guaidó and his surroundings, warning that "they are very wrong." "Here the president will continue to show his face because the cowards are them," he said.
Guaidó has reacted via Twitter accusing "repressive and persecuting bodies" of trying to continue with "a farce that nobody believes in them", alluding to the arrest of his uncle. "If they think that we are going to go back in the actions that we have taken and we are going to take, they are wrong. We will move forward," he said.
Márquez was arrested on February 11 at the Maiquetía International Airport, in Caracas, when he returned to Venezuela with Guaidó after a long international tour. The National Communication Center recalled that "today is nine days of his abduction."
Guaido's uncle is accused of terrorism for allegedly transporting explosive material, something that he, the airline he was traveling on – the Portuguese TAP – and the Portuguese government have denied.