Mid-earners 'locked out of buying a home'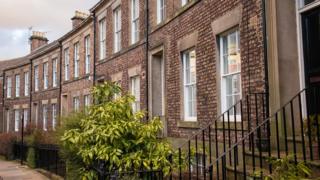 The extent at which young people are locked out of the British housing market has been revealed in new figures from economists.
The biggest decline in home ownership in the last 20 years has been among middle-income 25 to 34-year-olds, the Institute for Fiscal Studies said.
In 1995-96, 65% of this group owned a home, but just 27% do in 2015-16, with the biggest drop in south-east England.
Your biggest financial decision – in charts

First-time buyers 'at 11-year-high'
Middle earners are defined as having take-home pay of £22,200 to £30,600.
This can be either as an individual or as a couple.
A third of them are university graduates, while 30% left school at 16. Three-quarters of them live with a partner, and around 60% have children.
The proportion of these middle earners owning a home (27%) has moved closer to the likelihood of those with a low income (8%) than those on a high income (64%).
---
'Money down the drain'
Tom Bourlet pays £535 per month to rent a room in a flat in central Brighton.
"I've been renting it for two-and-a-half years. It really is money down the drain," he says.
"I don't really see much for it – it's not the biggest room."
The location is handy for work, and is close to the railway station, but Mr Bourlet would prefer to have somewhere "to be proud of, and build up myself", he adds.
However, buying somewhere is "completely beyond budget at the moment".
"It's absolute Mission Impossible," he says.
"From rent, to paying for trains… all the utility bills keep shooting up. I mean, I'm nowhere near, I'm not even slightly close. I'm saving every month, but the deposit is so high that it just seems beyond reach at the moment."
---
Andrew Hood, a senior research economist at the IFS, said: "Home ownership among young adults has collapsed over the past 20 years, particularly for those on middle incomes.
"The reason for this is that house prices have risen around seven times faster in real terms than the incomes of young adults over the last two decades."
Property price rises were significant in the South East of England. As a result, the region has seen the proportion of homeowners among 25 to 34-year-olds fall from 64% to 32% in two decades.
Every region of Britain had seen a 10 percentage point drop over the same period, the IFS said. This will lead to some tough decisions for today's 20 to 30-somethings, according to Iona Bain, founder of the Young Money blog.
"It is really hard to see how we can make this better when we are still seeing a huge demand for housing and that housing demand is not being met with the right number of houses," she said.
"Individuals are having to decide for themselves: do I want to rent and have the flexibility but pay more for it, or do I want make a lot of difficult decisions to get on the property ladder sooner and potentially stay put for many, many years to come?"
This interactive content requires an internet connection and a modern browser.
View affordability data by UK region
View affordability data by local authority area
Your results
–
Amount of the

United Kingdom

that has housing you can

afford
Range of affordable areas includes:
Armagh City, Banbridge and Craigavon
and
Belfast
No affordable areas
Search the UK for more details about a local area
What does affordable mean?
You have a big enough deposit and your monthly payments are high enough. The prices are based on the local market. If there are 100 properties of the right size in an area and they are placed in price order with the cheapest first, the "low-end" of the market will be the 25th property, "mid-priced" is the 50th and "high-end" will be the 75th.