MI5 head to criticise Russia's aggressive activity
In his first public comments since the Salisbury nerve agent attack, Andrew Parker will say that Moscow is using its spies and military to carry out "flagrant breaches of international rules".
Speaking in Berlin, to an audience of European intelligence agencies, Mr Parker will accuse the Kremlin of "pursuing an agenda through aggressive and pernicious acts by its military and intelligence services", adding that Russia risks becoming a "more isolated pariah" if it continues to act in the way it has.
Addressing the campaign of disinformation that followed the attack on Sergei and Yulia Skripal, Mr Parker will say there is a need "to shine a light through the fog of lies, half-truths and obfuscation that pours out of their propaganda machine".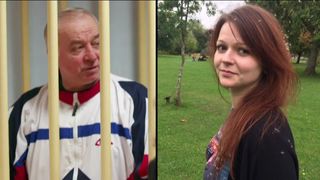 Following considerable work behind the scenes by MI5 and its sister agency MI6, 28 European countries agreed to support the UK by expelling diplomats in solidarity.
"European intelligence cooperation today is simply unrecognisable to what it looked like five years ago," Mr Parker will say, the first time a serving Director General of MI5 has spoken publicly outside the UK.
And with a nod to Brexit, he will describe how the Counter Terrorism Group, made up of 30 European domestic intelligence agencies, is the "largest multinational counter-terrorism enterprise in the world" where "real-time intelligence sharing" involves "thousands of exchanges on advanced secure networks every week".
Mr Parker will also address the ongoing threat from Islamist-inspired terrorism warning that "Daesh still aspires to direct devastating and more complex attacks", despite territorial losses, in the wake of 45 attacks across Europe since 2016.
His words will take on greater resonance after an attack in Paris killed one and wounded four others on Saturday night.
A Chechen-born French citizen, named as Khasan Azimov, was shot dead by police. Islamic State claimed responsibility for the attack, posting a martyr video of the man through the group's Amaq news agency.