Mexico returns 219 migrants to Honduras by air and expects to return more in the coming days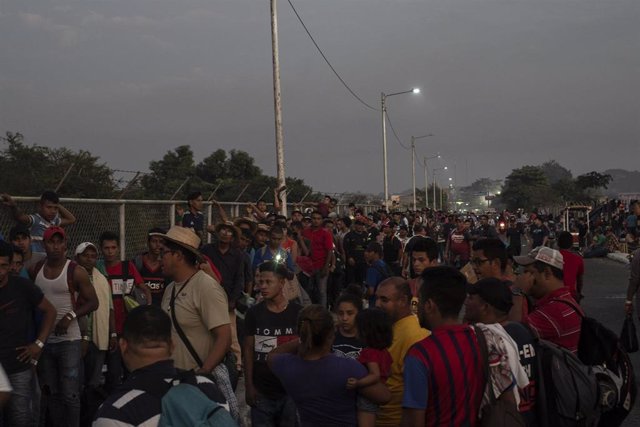 Migrants in Mexico – CONTACT – Archive
MADRID, Jan. 22 (EUROPE PRESS) –
The National Migration Institute (INM) of Mexico has reported on Tuesday that it has returned to Honduras to 219 migrants who entered the country "undocumentedly" on two flights, while ensuring that it plans to carry out more returns " in the coming days".
According to the INM, about 500 people of Central American origin, mostly from Honduras, entered Mexico on Monday "in an irregular condition" as they crossed the Suchiate River. A total of 402 were rescued and transferred to the agency's facilities.
In this context, the Mexican National Guard aircraft departed from the Carlos Rovirosa Pérez International Airport, located in Tabasco, bound for San Pedro Sula, in Honduras, with 110 people from Honduras on board the first and 109 the second .
In addition, the INM has stressed that two assisted returns have been carried out "with strict adherence to respect for their Human Rights (those of migrants)".
In just a few days, hundreds of Hondurans, who have also joined Guatemalans, have crossed the region until they reach the Mexican border, closed and heavily guarded by the National Guard.
Last year there were strong clashes in this same scenario between Central American migrants and security forces. Some, desperate to enter Mexico, threw themselves into the river that serves as a natural border to swim across.
Migrants from the so-called Northern Triangle – El Salvador, Guatemala and Honduras – began to march in groups in October 2018 to protect themselves from the dangers of crossing the region, plagued by criminal organizations.
Then, the Donald Trump Administration came to talk about "invasion" and forced issuing countries and Mexico, a transit country, to sign immigration agreements to strengthen measures against illegal immigration under threat of withdrawing American aid they receive and even of imposing commercial tariffs.