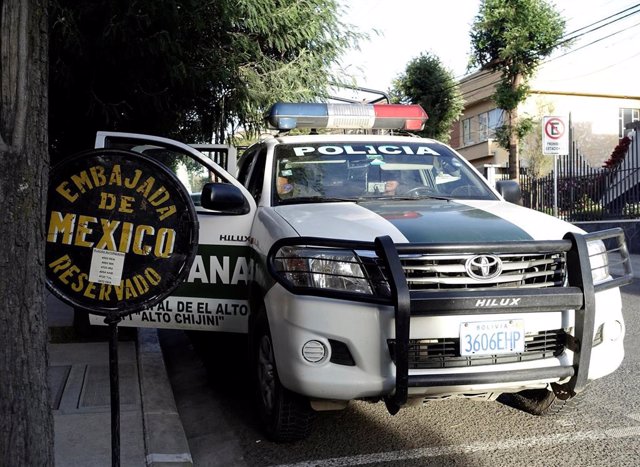 A police vehicle in front of the Mexican Embassy in La Paz – REUTERS / DAVID MERCADO
MADRID, Dec. 28 (EUROPE PRESS) –
The Mexican Embassy in Bolivia has denounced this Saturday that an important police surveillance device is maintained around the Official Residence of Mexico in La Paz that includes the use of drones to monitor what happens inside the building.
The Mexican Embassy in Bolivia has published in its official account on Twitter a series of images and a video in which these devices appear flying over the official residence building of the Mexican ambassador, María Teresa Mercado.
In the residence there are nine high-rankings from the stage of President Evo Morales, exiled in Argentina. Among them are the presidential ministers, Juan Ramón Quintana, and Culture, Wilma Alanoca, wanted by the new Bolivian authorities established after Morales's resignation, forced by protests and police and military pressure.
Morales had already denounced through Twitter the use of drones to "intimidate and jeopardize the security of the asylees" and has indicated that this implies a violation of the airspace of the Mexican diplomatic headquarters.
Last Monday, Mexico estimated at 150 the number of police officers deployed around the diplomatic headquarters and on Friday Bolivian agents prevented access to the Mexican residence to two diplomatic vehicles from Spain. The Bolivian government maintains that they were trying to evacuate former senior officials, but Madrid denies it.