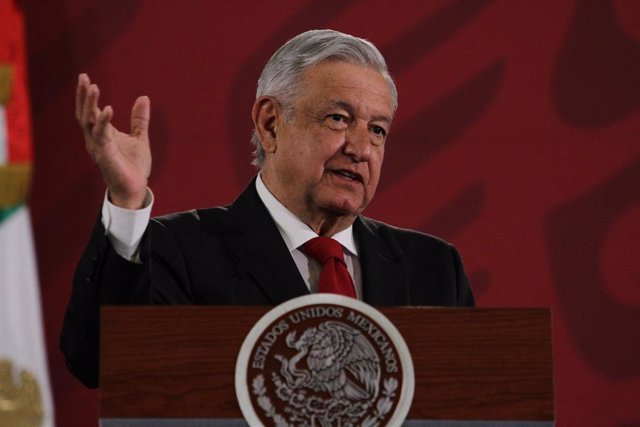 The president of Mexico, Andrés Manuel López Obrador – Guillermo Granados / NOTIMEX / dpa
MADRID, Dec. 23 (EUROPE PRESS) –
Mexico has denounced on Monday an "excessive presence" of security and intelligence agents of Bolivia around the Embassy and the residence of the ambassador in La Paz, in the context of bilateral tension by the decision of the Government of Andrés Manuel López Obrador de give asylum to former Bolivian president Evo Morales, who is now a refugee in Argentina.
"The Government of Mexico (…) expresses its deep concern about the excessive presence of Bolivian intelligence and security services personnel who monitor both the Residence and the Mexican Embassy before the Plurinational State of Bolivia since November 11 ", said the Foreign Ministry in a statement.
Mexico has considered that this "excessive presence" of Bolivian agents implies a "lack of compliance with the Vienna Convention on Diplomatic Relations", urging Bolivia to "respect and fully cover" its obligations.
In this regard, he reminded Bolivia that the premises of the diplomatic missions are "inviolable", so that "the agents of the receiving State may not enter them without consent."
"Mexico is confident that inviolability will be respected … and the corresponding measures will be carried out to guarantee the protection and protection of the physical integrity of the diplomatic mission building both inside and outside, as well as diplomatic agents accredited, "said the Mexican Foreign Ministry.
The relationship between Mexico and Bolivia has deteriorated since the López Obrador government granted Morales asylum. The indigenous leader resigned on November 10, after which he fled to Mexico. There, he spent almost a month until, after a brief stopover in Cuba for medical reasons, he arrived in Argentina, where he will stay as a refugee.
One of the issues that most bothered the Government of the self-proclaimed interim president of Bolivia, Jeanine Áñez, were Morales' political statements from Mexico. Thus, they have trusted that Argentina also does not give it "an open microphone".
Morales resigned after the Organization of American States (OAS) confirmed "irregularities" in the presidential elections held on October 20. The former president considers that he has been the victim of a "coup d'etat" and does not recognize Áñez.
Morales' MAS and the new ruling party have reached an agreement in Congress to hold new presidential elections in 2020 by expressly vetoing the indigenous leader as a possible candidate, so he will limit himself to being the MAS's campaign leader.