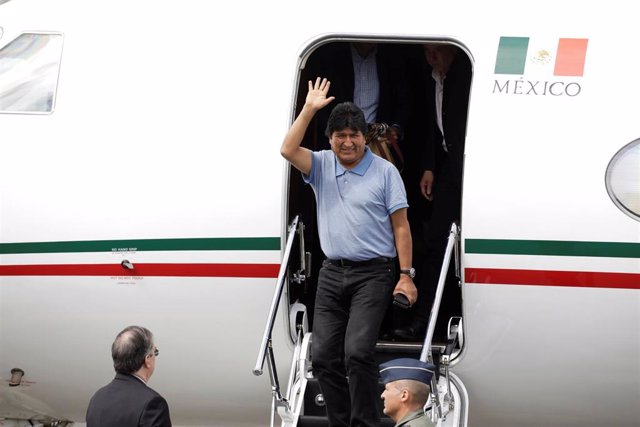 The former president of Bolivia Evo Morales upon his arrival in Mexico City on November 12. – REUTERS / LUIS CORTES – Archive
MADRID, Dec. 31 (EUROPE PRESS) –
The Ministry of Defense of Mexico has reported Monday that the cost of the transfer to Mexico of former president of Bolivia Evo Morales reached almost 95,000 euros, about 2 million Mexican pesos.
Mexican military authorities have explained that the price derives from refueling, as well as airport services from the countries where the plane took land before arriving in Mexico in mid-November.
The General Staff of the Defense, as well as the Mexican Air Force have provided this information after a request made by an individual, as detailed by the Mexican newspaper 'El Universal'.
The Mexican Air Force ship departed on November 11 for Bolivia to pick up Morales, but met with the refusal of the Bolivian Armed Forces and the governments of Peru and Ecuador to cross their airspace.
Finally, the plane managed to reach its goal after having diplomatic help from Paraguay and Brazil.
"A month ago I arrived in Mexico, a sister country that saved our lives," Morales said on December 12 when he arrived in Argentina after having previously passed through Cuba for medical reasons.
"My eternal thanks to President López Obrador, the people and the Government of Mexico for saving my life and shelter," the former president of Bolivia thanked.
The political crisis in Bolivia broke out after the presidential elections of October 20, in which the now former president Evo Morales proclaimed his victory but the opposition denounced a "gigantic fraud."
The Organization of American States (OAS) concluded in its final report that in the elections there was "malicious manipulation" and "partiality", as well as "serious irregularities", such as "lack of protection of the minutes" and the loss of " sensitive material. "
Morales resigned on November 10 and took refuge in Mexico. Jeanine Áñez, second vice president of the Senate, proclaimed herself interim president to fill the power vacuum left by the former president and the resignation of other senior officials.
Bolivia is now preparing to celebrate new ones in which neither Morales nor his vice president, Álvaro García Linera, will be able to participate, according to the agreement to which his party, the Movement To Socialism (MAS), and the Government of Áñez have arrived in Congress .