Met Gala: Cardi B, Elon Musk and all the bits you missed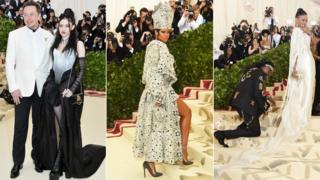 The Met Gala is a chance to see celebs hiking up a load of steps while wearing the most extravagant outfits.
This year's theme was Heavenly Bodies: Fashion and the Catholic Imagination – and the celebs didn't disappoint.
Rihanna was hosting and turned up dressed as the Pope, wearing a Maison Margiela Artisanal Gown by John Galliano – while elsewhere Nicki Minaj and Cardi B also made waves.
Newsbeat has picked out some highlights from the night, including an impromptu proposal from a hip hop heavyweight.
There were some amazing outfits on display – whether it was Lena Waithe's rainbow flag-inspired veil or Katy Perry's angel wings, but we can't get enough of 'Pope Rihanna'.
Especially this video of her showing off her outfit.
Elsewhere though…
2 Chainz proposes to his… wife?
Rapper 2 Chainz used his time on the red carpet to get down on one knee.
He popped the question to Kesha Ward and she said "yes".
The only thing is, according to Essence, they're already married.
The rapper, whose real name is Tauheed Epps, reportedly has three children with Kesha.
It's not clear if 2 Chainz was upgrading the ring or if they plan to renew their vows.
The pair have been together for five years, but there is some confusion about if they are already married.
According to magazine People, 2 Chainz previously proposed at the BET Awards but they never made it official.
It's not the first time a celebrity has popped the question on the famous Met Gala steps.
In 2004, future president Donald Trump proposed to future first lady Melania Trump.
Is a 2 Chainz presidency on its way?
Queens: Nicki Minaj and Cardi B
Nicki Minaj and Cardi B were seen chatting at the Met Gala and people are loving it.
Nicki even gave Cardi's baby bump a little rub, which one person compared to religious art.
Their relationship is rumoured to have been rocky since working together on Nicki's track Motorsport.
In an interview, Cardi said Nicki changed her verse from the one they recorded together.
Nicki responded by saying she felt hurt, telling Beats 1: "I remember when I first came in the game, if a female of that stature had done a feature with me on it, I would only be singing their praises and saying thank you."
But hopefully after last night, these two have patched things up.
Elon Musk is dating Grimes
Billionaire Elon Musk and Canadian artist Grimes are a couple.
The pair stepped out on the red carpet together, with Grimes wearing a necklace that looked a lot like the Tesla logo.
Though they've reportedly only been dating for a month, some people think they have a powerful future ahead.
'Even queens need to eat'
As well as doing a surprise performance at the Met Gala, Madonna also shared a time-lapse video of her getting ready.
It's fair to say she's a multi-talented woman.
Follow Newsbeat on Instagram, Facebook and Twitter.
Listen to Newsbeat live at 12:45 and 17:45 every weekday on BBC Radio 1 and 1Xtra – if you miss us you can listen back here.