Mesa, willing to accept the OAS electoral audit if Morales gives it a binding character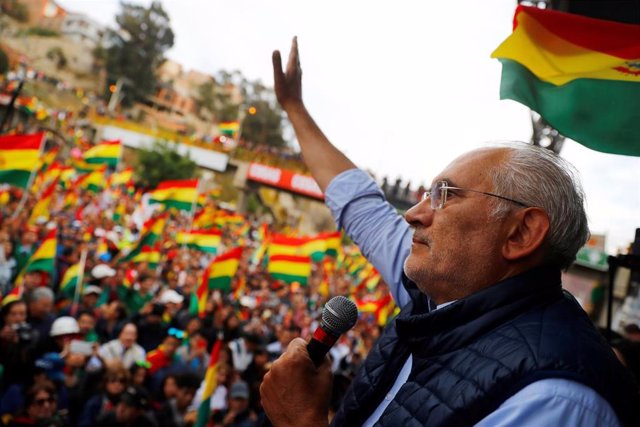 The opposition candidate Carlos Mesa – REUTERS / KAI PFAFFENBACH
MADRID, Oct. 29 (EUROPE PRESS) –
Opposition leader Carlos Mesa said Tuesday that he is willing to accept the electoral audit of the Organization of American States (OAS) if the Bolivian president, Evo Morales, gives it a binding character, which could lead to new elections.
"If we are willing to accept the OAS audit? I begin by making a counter-question: Is the Government, the president and the vice president willing, not to accept the results of the Electoral Tribunal and (…) accept that the audit has a binding nature? ", he has stated in statements to the press from Santa Cruz.
Mesa has answered the vice president, Álvaro García Linera, who has challenged him to join the OAS electoral audit, accusing him of being a "bad loser" for not accepting Morales's victory.
For the opposition leader, the audit is binding is "key." "If they are willing to recognize that until there is no audit they do not accept the results as closed, we will be able to say something fundamental," he said, according to the Bolivian newspaper 'La Razón'.
Mesa has stressed that, while "all roads are open," "a new election would be ideal," appealing to the report of the OAS Electoral Observation Mission, according to which "a gigantic irregularity occurred."
In addition, he has clarified that until a solution to the electoral crisis is found, "the mobilization of the Bolivian people is not going to stop." "The Bolivian people remain mobilized in defense of the vote, keep going until we achieve our goal, which is respect for the popular vote," he said.
The crisis broke out on the night of October 20 due to the sudden suspension of the transmission of the results of the presidential elections held that day just when they forced a second round between Morales and Mesa.
The end of the scrutiny has awarded the victory in the first round to Morales, but Mesa believes that the official results are the result of a "gigantic fraud." At first he claimed a second round, but now he directly asks for the annulment and repetition of the presidential elections.
In this week, both sides have called for the mobilization of their supporters, which has resulted in clashes in the streets and burning of electoral courts. Morales has agreed to audit the votes with the presence of international observers, including the OAS.