Mesa will repeat at the polls despite Camacho's intention to attend as a consensus candidate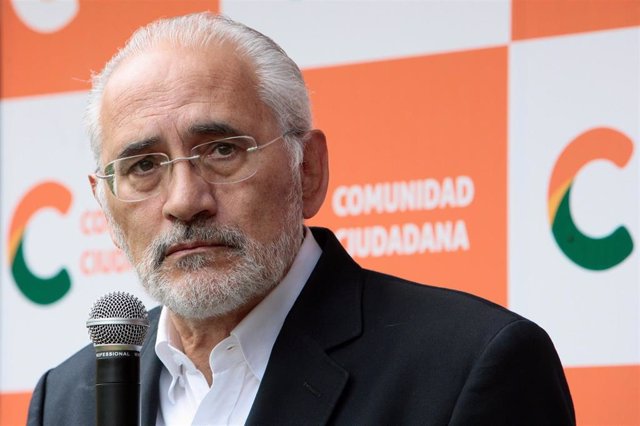 Former Bolivian President Carlos Mesa – REUTERS / STRINGER.
MADRID, Nov. 27 (EUROPE PRESS) –
The Bolivian opponent Carlos Mesa will repeat as a candidate in the presidential elections that the country intends to hold to settle the open political crisis after October 20, despite the fact that the opposition leader Luis Fernando Camacho had also offered to lead a consensus candidacy with which to face the MAS of Evo Morales.
Comunidad Ciudadana, the electoral platform for which Mesa competed in the last elections, issued a statement on Wednesday confirming his support for him to repeat in the new elections, once again counting on Gustavo Pedraza as an aspiring vice president.
However, he has indicated that, taking into account "the political crisis and its consequences in various fields", he has agreed "to explore the possibility of extending agreements with other political and social forces for the construction of a 'democratic center' that will give sustenance to the next government. "
Along the same lines, Chi Hyun Chung, has announced that he will again be the presidential candidate of the Christian Democratic Party (PDC). "Yes, because we have fought for a principle and we have a proposal for Bolivia," he explained.
Chi, of Korean origin, has also reached out to other parties, anticipating a round of consultations. "I am managing the alliance, the union of acronyms," he revealed, according to 'Page Seven'.
Mesa and Chi have confirmed their respective candidacies one day after Camacho, head of the Civic Committee of Santa Cruz, and Marco Antonio Pumari, his counterpart in Potosí, volunteered to embody a consensus candidacy in the Bolivian opposition as president and vice president, respectively.
"If the country demands the duo, we will have to sit down with the" opposition sectors to make a decision and, "if it is not the best for Bolivia, then we will not do it," Camacho said in a press conference.
Morales resigned on November 10 after the audit commissioned by the Organization of American States (OAS) confirmed "irregularities" in the electoral process.
After a month of protests that have left more than 30 dead, supporters and detractors of the indigenous leader agreed in Congress to pass a law that establishes the 'road map' for the holding of new elections.
The law expressly vetoes the candidacies of Morales and his vice president, Álvaro García Linera, both exiled in Mexico. The former Bolivian president has said in numerous interviews that he is willing not to participate in the upcoming elections for the "pacification" of the country.