Mesa rejects the audit "in the current terms, unilaterally agreed" by the Government with the OAS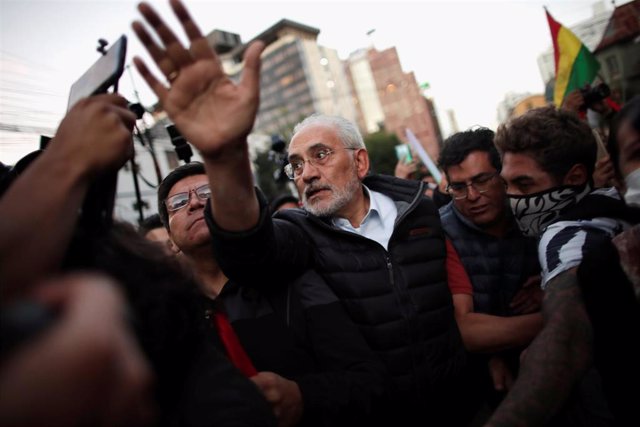 The Bolivian opponent Carlos Mesa – REUTERS / UESLEI MARCELINO
MADRID, Oct. 30 (EUROPE PRESS) –
The opposition candidate Carlos Mesa on Wednesday rejected the agreement reached by the Government of Evo Morales and the Organization of American States (OAS) for the hemispheric bloc to conduct an audit of the votes cast in the presidential elections held on the 20th of October in Bolivia because the "current terms" have been agreed "unilaterally."
"We do not accept the audit in the current terms, agreed unilaterally," said Mesa, former president and former vice president who in the last elections competed for the opposition platform Comunidad Ciudadana, in a statement.
Mesa has recriminated that the ruling party, the Movement To Socialism (MAS), and the OAS have not consulted "neither the country" nor the opposition. Thus, it has indicated as conditions for the opposition to accept the audit that the Government agrees to "ignore" the official results already announced and "the necessary participation of civil society."
"We owe ourselves to the more than two million voters who supported us and recognize the positions of institutions, civic sectors and social movements that pose the annulment of the elections and express their distrust of the audit agreed between the OAS and the MAS" He has affirmed.
In this regard, he stressed that his position is "invariable" from the same election day: "We demand respect for the popular will expressed at the polls." In his opinion, "that will mocked a fraudulent calculation, as recognized by the Electoral Observation Mission (MOE) of the OAS, the European Union and friendly countries."
In addition, he has denounced that "the fraud executed by the MAS and its efforts to ignore the popular will have generated a spiral of violence with consequences that could be irreparable."
"The attack of organized groups of the Government on the citizens, the instruction to enclose cities, block the roads, cut off the water supply, dozens of injured and spilled blood on our streets are the result of the ambition without limits of Evo Morales and ( Vice President) Álvaro García Linera, "he said.
In this context, Mesa has indicated that it will maintain "coordination mechanisms with all those who fight for the respect of the popular vote and democracy to arrange the best exits to this political crisis, always seeking to preserve peace and avoiding fratricidal violence."
The crisis broke out on the night of October 20 due to the sudden suspension of the transmission of the results of the presidential elections held that day just when they forced a second round between Morales and Mesa.
The end of the scrutiny has awarded the victory in the first round to Morales, but Mesa believes that the official results are the result of a "gigantic fraud." At first he claimed a second round, but now he directly asks for the annulment and repetition of the presidential elections.
In this week, both sides have called for the mobilization of their supporters, which has resulted in clashes in the streets and burning of electoral courts. Morales has agreed to audit the votes and on Wednesday he has announced an agreement with the OAS to start the recount on Thursday.