Mesa insists on maintaining the "peaceful mobilizations" until the second electoral round in Bolivia is achieved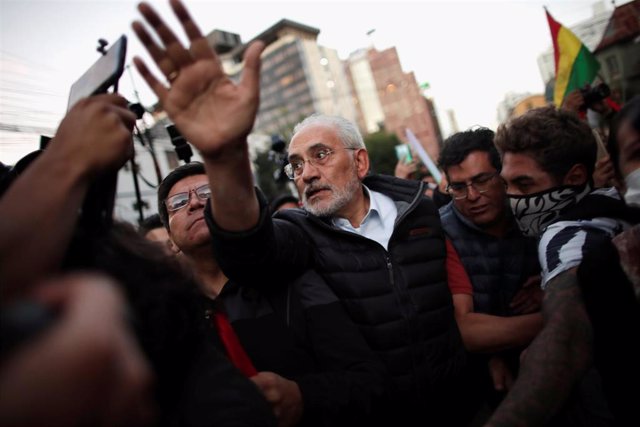 The Bolivian opponent Carlos Mesa – REUTERS / UESLEI MARCELINO
MADRID, Oct. 24 (EUROPE PRESS) –
The main opposition candidate of the presidential elections held last Sunday in Bolivia, Carlos Mesa, has reiterated this Thursday his call to maintain the "peaceful mobilizations" until the current president, Evo Morales, agrees to organize a second round to overcome the electoral crisis
"The Coordinator of Defense of Democracy demands the immediate call for a second round, administered in an appropriate, independent and impartial manner. We will remain in peaceful mobilizations until we respect the popular will," said Mesa via Twitter, attaching a statement of the opposition platform, which includes the same ideas.
Mesa has thus answered Morales, who on Thursday proclaimed his victory when the official count gave him 46.8 percent of the vote, compared to 36.7 percent of the opposition leader, an advantage of only one tenth that legally allows you to bypass the second round because it gives you an advantage of more than ten points over your immediate competitor.
The last count, with 99.12 of the ballots scrutinized, reduces Morales' advantage. The indigenous leader stays at 46.52, while Mesa approaches with a 36.92. Thus, the final votes will be decisive to know if Bolivia will have to celebrate its first ballot in 17 years.
Mesa, which captains the newly created Coordinator for the Defense of Democracy – integrated by political parties, civic committees and the National Committee for the Defense of Democracy (Conade) – as well as the Episcopal Conference and the Organization of American States (OAS) ) have asked Morales that, given the adjusted result, whatever the final one, a second round is held.
The origin of the crisis was the sudden suspension of the transmission of official results on the same election night when the difference between Morales and Mesa was less than ten percentage points. When it resumed, more than 20 hours later, the trend had reversed, so Mesa has denounced that it is underway "a gigantic fraud" by the Government.
Morales, meanwhile, has accused Mesa of captaining a "coup d'etat." "We are called to defend democracy because we recover democracy," he said Thursday in a message in which he has asked his followers "not to enter provocation and confrontation," blaming those who do not "accept" it as president "of any unfortunate event" that may occur.
Since Sunday, numerous protests have taken place in Bolivia, both for and against the indigenous leader. In some cases they have resulted in riots and there have been burns of electoral courts, as well as direct confrontations between supporters and detractors of Morales and between opponents and security forces. Both parties have called for mobilization to defend their position.