Mesa insists on asking for new elections in Bolivia so that Morales leaves power "with the vote"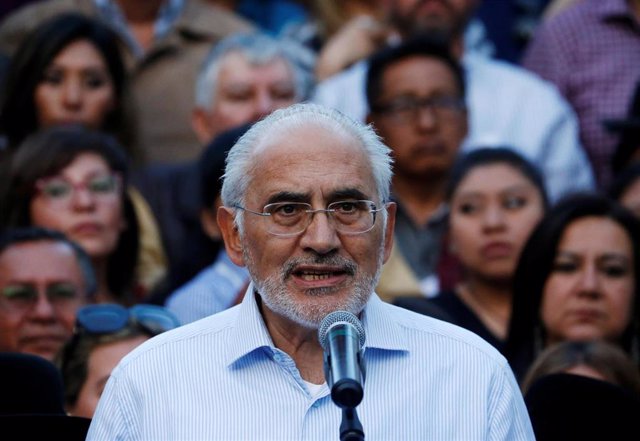 Bolivia's opposition leader Carlos Mesa – REUTERS / DAVID MERCADO
MADRID, Nov. 5 (EUROPE PRESS) –
The opposition leader Carlos Mesa has reiterated on Tuesday his call to repeat the presidential elections held on October 20 in Bolivia so that the current president, Evo Morales, leaves power "with the vote."
"Evo Morales must leave the Government and must leave by vote, that is, with new elections," he said in statements to the press collected by the Bolivian newspaper 'El Debe'.
Mesa has rejected the official results, which give Morales the victory in the first round, considering that they are the result of a "gigantic fraud". At first, he asked for a second round but now he directly claims new elections.
The indigenous leader has agreed that the Organization of American States (OAS), supported by countries such as Spain, Mexico or Peru, conduct a binding electoral audit that began last Thursday and will be known in about twelve days.
However, Mesa – former president and former vice president – has rejected it, arguing that it is a unilateral agreement between the Government and the OAS that has not taken the opposition into account.
In these weeks, both parties have called for the mobilization of their own which has resulted in clashes and looting. At least two people have died and more than 190 have been arrested. Morales has come to accuse Mesa of launching a "coup d'etat."
In a last incident, official supporters have surrounded the leader of the Santa Cruz Civic Committee, Luis Fernando Camacho, at El Alto International Airport, where he has arrived to deliver Morales a letter demanding his resignation, after the deadline for 48 hours he had been given for it.
The opposition leader has denounced that he has been sent back to Santa Cruz with "lies" and has announced that he will travel to La Paz on Wednesday and will do so as many times as necessary. Camacho has advised the Government to "worry" about Morales.
Mesa has referred to what happened with Camacho, indicating that "it is not an isolated case." In his opinion, it is proof that the ruling party, the Movement To Socialism (MAS) is generating violence. He has a "false peace speech," he has reproached.