Mesa ensures that it will not surrender á and warns of going á "to the prison or to the Presidency"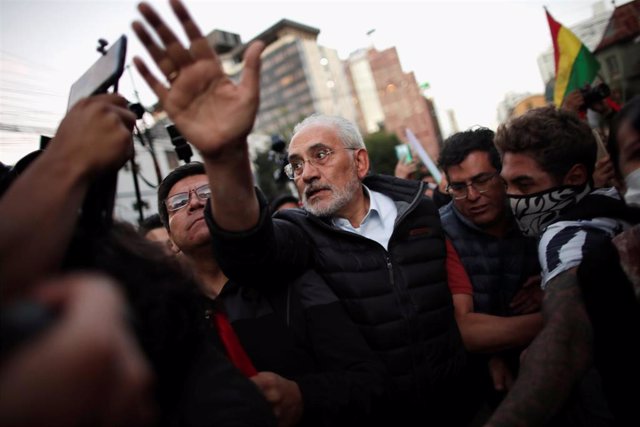 The Bolivian opponent Carlos Mesa – REUTERS / UESLEI MARCELINO
MADRID, Oct. 29 (EUROPE PRESS) –
The opposition candidate for the Presidency of Bolivia, Carlos Mesa, said Monday that he will not give up and warned that he will go "either to jail or to the Presidency", after accusing the Government of Evo Morales of trying to hold him accountable for the acts of violence that are occurring in the country following the re-election of the president answered by the opposition.
"This struggle is peaceful and democratic. I repeat, peaceful and democratic, Mr. Linera and Morales," said Mesa, referring to the Vice President of Bolivia, Álvaro García Linera. "Or I go to jail or to the Presidency. There is no option for the environment, to jail or to the Presidency," he reiterated, according to the newspaper 'El Debe'.
Mesa has made the statements in a concentration that has been carried out at the Següencoma fairgrounds, convened by the opposition platform of Bolivia Committee for the Defense of Democracy (CONADE).
Hours earlier, the former president has denounced in a video posted on the social network Twitter that the ruling Movement to Socialism (MSA) is trying to hold him accountable for "alleged acts of violence" and for "an invented coup d'etat, establishing a non-existent relationship between our decision of democratic commitment to violence. "
Mesa has defended that in "no case" has it called for "actions of violence" within the framework of the national strike decreed in response to the alleged electoral fraud that allowed Morales to win in the first round "or in any type of initiative that does not be peaceful and democratic resistance. "
Linera accused Mesa of being a "bad loser" by not accepting his defeat against Morales and refusing to conduct an international audit of the electoral process.
Given the criticisms received and the protests, both for and against, the Morales Government decided to invite the Organization of American States (OAS) to conduct an audit of the elections. "We are the main interested parties in making the electoral act transparent so that the sacred vote of the Bolivians is validated," he said.
Meanwhile, as reported by local media, there have already been some altercations and clashes between supporters of Morales and the opposition in different cities of the country, including La Paz and Cochabamba, within the framework of the indefinite strike called by the opposition to demand the annulment of the elections.