Mesa condemns the burning of the indigenous flag in the protests and blames racism on Morales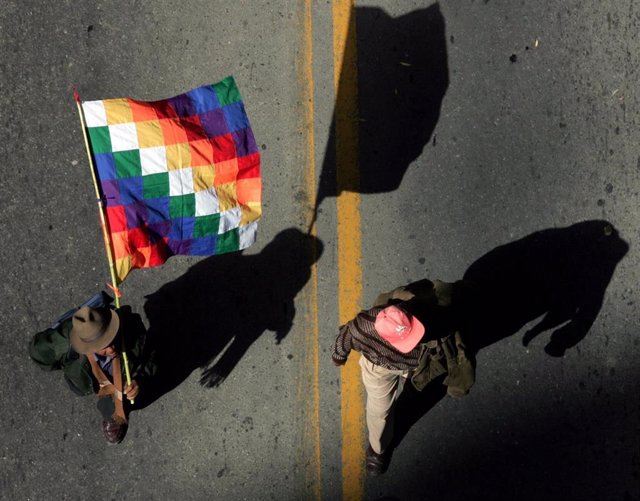 La whipala or indigenous flag (archive image) – REUTERS / JORGE SILVA – Archive
MADRID, 12 Nov. –
Bolivian opponent Carlos Mesa on Tuesday condemned the burning of the whipala, the indigenous flag, in the mobilizations for and against former president Evo Morales, whom he has blamed for promoting racism in the framework of these protests.
"The racism that Evo Morales promoted in this crisis cannot be replaced by the radicalisms that, in the name of democracy, discriminate against the symbols of our indigenous peoples. He condemned the burning of the whipala and I ask the authors of these actions for a public apology ", he wrote on Twitter.
In addition, he has expressed his "solidarity" to the candidates of his electoral platform, Comunidad Ciudadana, Janneth Chipana and Sandra Peñafiel and "with the hundreds of Bolivians victims of the violent groups of the MAS who in these days sowed terror and destruction in great part of Bolivia. "
Bolivia is in deep crisis since the presidential elections held on October 20. The official results gave Morales the victory, but Mesa, the main opposition candidate, denounced a "gigantic fraud" of the Government to guarantee a fourth term to the indigenous leader.
Both sides called for the mobilization of their supporters, which resulted in clashes, blockades and looting that have resulted in at least three deaths and hundreds of detainees.
Thus, Morales agreed that the Organization of American States (OAS) conducted an electoral audit that has finally confirmed irregularities. In response, the still president agreed to hold new elections, despite which both the Police and the Armed Forces "suggested" him to resign.
Morales resigned from office on Sunday, after fourteen years in power, and Monday night (local time) embarked on a plane to Mexico, which has granted him political asylum. The former president and his allies denounce a "coup d'etat."