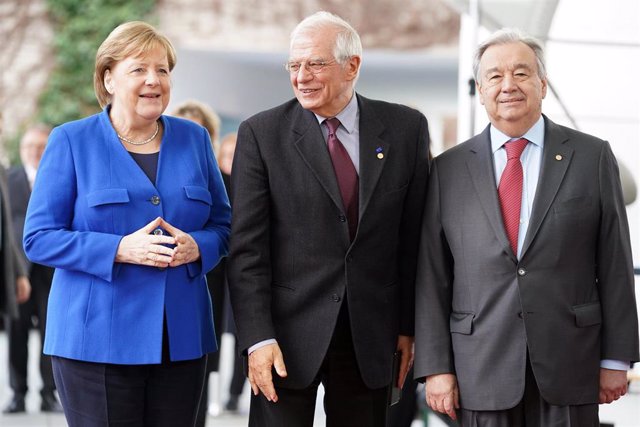 Angela Merkel, Josep Borrell and Antonio Guterres – Kay Nietfeld / dpa
MADRID, Jan. 19 (EUROPE PRESS) –
German Chancellor Angela Merkel has held separate talks with the two main protagonists of the Libyan conflict, Prime Minister Fayez Serraj and Marshal Jalifa Haftar, as host of the peace conference held in Berlin to try to stop the Fire to war in the North African country, sources from the DPA agency have confirmed.
Merkel, Putin, Serraj and Haftar begin preliminary talks at the Berlin peace conference
At the same time, the presidents of Russia and Turkey, Vladimir Putin and Recep Tayyip Erdogan, respective allies of Haftar and Serraj, and initiators of a negotiating process that has finally moved to the Berlin conference, have also talked privately.
In statements after the meeting, Putin has valued that, "in general terms", the forces of the recognized government of Tripoli led by Serraj and the Libyan National Army of Haftar, under the orders of the parallel administration in the east of the country, "have attended the request to temporarily stop the hostilities "and facilitate the conference.
Erdogan, yes, has insisted that Haftar must "end its aggression policies" to achieve not only a stable ceasefire but "the beginning of a political process," according to statements collected by the official Russian news agency RIA Novosti .
The United States, represented by its Secretary of State, Mike Pompeo, has begun talks with the United Arab Emirates, also allies of Haftar, represented in turn by its Foreign Minister Abdulá bin Zayed Al Nahyan.
At the meeting, as Pompeo has commented on Twitter, the United States has emphasized "the need for a lasting ceasefire, the end of foreign intervention in the Libyan conflict and the beginning of a political process mediated by the United Nations under the leadership of the Libyan people. "