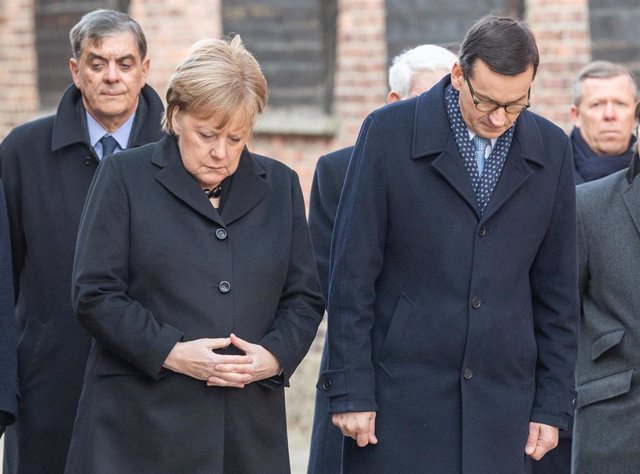 German Chancellor Angela Merkel and Polish Prime Minister Mateusz Morawiecki visit the former Nazi concentration camp at Auschwitz – Robert Michael / dpa-Zentralbild / d
OSWIECIM (POLAND), Dec. 6 (DPA / EP) –
German Chancellor Angela Merkel has honored the victims of Nazism on Friday in the former Auschwitz concentration camp in Poland, and has maintained a minute of silence before the so-called 'Black Wall', where thousands of prisoners were killed.
Previously, the head of the German Government has toured a gas chamber and a crematorium accompanied by the Prime Minister of Poland, Mateusz Morawiecki, and the president of the Auschwitz-Birkenau Foundation, Piotr Cywinski.
This is the first time Merkel visits Auschwitz. Its presence coincides with the tenth anniversary of the Auschwitz-Birkenau Foundation, which is dedicated to preserving the memorial site on the grounds of the former camp.
Before the current president, former German foreign ministers Helmut Schmidt and Helmut Kohl were there.
The Nazi concentration and extermination camp at Auschwitz-Birkenau in Poland then occupied by the Nazis is considered worldwide a symbol of the Holocaust. It is estimated that there were killed over a million people, mostly Jews.