Merkel celebrates the anniversary of the fall of Muro: "Human Rights cannot be taken for granted"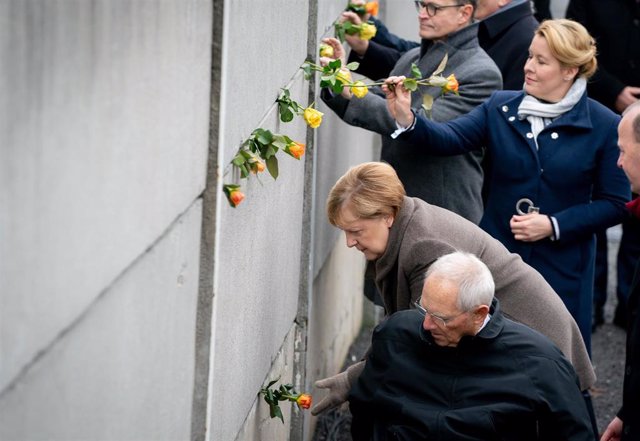 Angela Merkel connects the fall of the Wall – Kay Nietfeld / dpa
BERLIN, Nov. 9 (DPA / EP) –
German Chancellor Angela Merkel recalled this Saturday, the thirtieth anniversary of the fall of the Berlin Wall, that "Human Rights cannot be taken for granted" in celebration of a date that recalls "happy and unhappy moments."
Merkel has linked this November 9 with another anniversary, of the tragedy of the Night of the Broken Crystals, the wave of murders launched by Adolf Hitler in 1938, another reminder that "you have to raise your voice against racism and anti-Semitism" .
The director of the Foundation of the Wall, Axel Klausmaier, recalled during the ceremony, a matacaballo between the Brandenburg Gate and the Bernauer street, icon of the fall, that "the peaceful revolution means first of all taking responsibility, living tolerance, respecting and defend democracy and human rights and fill the dream of a united Europe with life. "
Bernauer is considered as a symbol of the division of Germany. When the wall was erected in 1961, the facades of the houses were in the east and the sidewalk in the west sector of the city.
Merkel had planned to attend a religious service in the chapel of reconciliation, while the president of the country, Frank-Walter Steinmeier later went to the monument of the four states of Visegrad, a government organization that brings together Slovakia, the Czech Republic, Poland and Hungary.
There, the president thanked the leaders Zuzana Caputova (Slovakia), Milos Zeman (Czech Republic), Andrzej Duda (Poland) and Janos Ader (Hungary) for the important contribution of their respective countries to German reunification.
"Without the courage and desire for freedom of the Poles, Hungarians, Czechs and Slovaks, peaceful revolutions in Eastern Europe and German unity would not have been possible," Steinmeier said.