Mental Health Awareness Week: 'My camera helped me beat anxiety'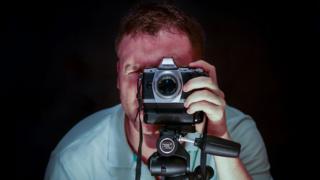 We all know how it feels to be anxious – exams, asking someone out, job interviews can all stir up momentary butterflies and blind panic. But anxiety can be an overwhelming and debilitating problem, crippling a person's ability to function day to day. During Mental Health Awareness Week, one man describes how he beat his anxiety by forcing himself to photograph complete strangers.
John Mannell had always been the "shy kid in the corner".
He didn't particularly like talking in front of big groups of people, but was happy that way.
Seven years ago, John finished university, moved into his first flat and was enjoying his job at a glass and glazing company.
But the stress of a stomach operation triggered a deep-seated anxiety in him which meant he was completely unable to recognise the good things in his life.
John soon began having anxiety attacks that were so bad he hardly left the house apart from to go to work.
"I spent months where I'd literally just go home and sit in a blackened room, and keep myself shut away," he says.
"I'd sit in the dark thinking everything was collapsing around me. It's very suffocating and restrictive.
"I used to suffer when I was a kid with asthma and it felt quite similar. It was not that I couldn't breathe, but it was just completely overwhelming.
"You just want to feel safe, and I know it sounds mad, but safety for me was just being shut away where I felt like no one would notice."
John began attending a therapy group after he was diagnosed with depression.
When the 32-year-old told members he used to love photography, his new friends suggested he revive his hobby to give him a nudge out of the door.
John started tentatively by capturing photogenic places near his home in Sutton, south London – using his camera as a "comfort blanket".
Although he had jumped a huge hurdle in simply leaving his bedroom, he still found it terrifying to speak to other people.
At first he would go "stupidly late at night" so as not to have to talk to anybody. But he knew it was time to make himself take photos of people, not just places.
"I asked a couple of strangers, and that was one of the most nerve-wracking things I've ever done," he said.
"I was so nervous. I didn't really look them in the eye – I was looking everywhere but their faces."
John joined a night school to work more on photography, as he could tell it was helping him to "start seeing the world again".
That's when a tutor suggested he do project 365, where you pick an activity and do it once a day, every day, for a year – be it running, baking a cake or reading.
He decided to take a picture of a stranger every day in 2017, and so began his Portrait Per Day account on Instagram.
You might also like:
As time went on, John felt his confidence grow.
"It felt like progress because you're coming back with something – you're coming back with an image, a piece of art," he said.
But he wasn't the only one benefiting from the project – he says it was also helping the subjects of his photos and that he was astonished by how readily people would open up to him.
One day he spent an hour with a woman called Evelyn, who told him it was the first time she'd been out of the house since her husband died months earlier.
She was "chuffed" to speak to a stranger about it, he said – and even more excited to tell her granddaughter she'd been chatted up by "some young man".
The reactions have been vast, John says, from having people hug him, laugh with him, share photography tips with him, and sometimes even break down in tears.
Inês had been sitting alone outside St Paul's Cathedral, crying, when John stopped and chatted to her.
"I apologised and she said it was fine as it was good to cry. I wish we all could be so honest," he said.
"I've met people going through some bad times themselves, and who haven't had the confidence to tell anyone," he said.
What is anxiety?
Anxiety is a normal part of life. It can affect us all in different ways and at different times.
While stress is something that will come and go as the external factor causing it (such as work, or relationship problems) comes and goes, anxiety can persist whether or not the cause is clear.
Anxiety can make a person imagine that things in their life are worse than they really are.
Physical symptoms of anxiety can include dizziness, nausea and palpitations, while psychological symptoms can include thinking that you might die.
Source: Anxiety UK
Other memorable meetings include Patrick, who is now designing John's wedding outfit, "Rasta Steve" who explained how he had never really recovered from losing his arm in the 1980s, and Kate – who turned out to be the "lovely" Reverend Bottley from Channel 4's Gogglebox.
It says it has made him realise his home city isn't as dark and gloomy as he once thought it was.
"You build up this thing that London can be a nasty place. I can remember always my parents saying, be careful when you're in London.
"But actually, you scratch the surface and there's so many amazing people, loads of people with warmth, and willingness to open up to me – just some weirdo walking around with a camera."
Although John has now posted all 365 of his photos for 2017, the reaction from his 1,600 Instagram followers has spurred him on to continue sharing portraits.
He finds it hard to believe how many people are touched by his work.
One day, John was walking through Borough Market, and spotted Mollie, who had "really cool dreads".
Before he'd finished asking her if she would let him take a photo, she said: "Are you Portrait Per Day?"
It dawned on John how widespread his "weird little club" of people "being photographed by some oddball" was becoming.
"It was totally nuts," he said.
"A lot of people say there's a negative side to social media, but for me it's just brought [forward] this huge network of people."
Crucially, it has made John realise the root of his anxiety was a fear of rejection and though he faced plenty during his project, he now feels better equipped to cope with it.
"All I managed to ever see were the negatives and completely missed all of the amazing things which were going on.
"I think I thought I was always worried about what people thought of me, but the repetition has got me used to the whole fear of rejection.
"I think had I just been able to speak to people, to friends, that would have been the best cure."
If you have been affected by mental health issues, you can find more information here.