Meloni's party opens the door to constitutional reform
Francesco Lollobrigida, current spokesman for the Fraternities of Italy group, the party of virtual Italian Prime Minister Giorgia Meloni, hinted on Monday that they could push ahead with a reform of Italy's constitution.
"The constitution is beautiful, but it's also 70 years old," Lollobrigida told the Italian press after being asked about the possibility of constitutional reform.
For Lollobrigida, the Magna Carta contains "critical points" and he argued during his appearance in Rome that, according to the newspaper "La Repubblica", this circumstance "hindered" some reforms.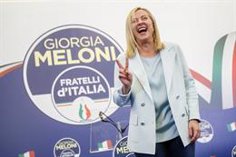 Meloni is already looking to October 13 as the first milestone in forming his government
In addition, the leader of the Brothers of Italy referred to citizenship income, one of the most common targets of the party's criticism during the election campaign.
"Income has plummeted and needs to be cut, but that doesn't mean the vulnerable and those who can't work are left without support. On the other hand, we must have a real employment policy,' he said.