Melania Trump tweets 20 days after last public appearance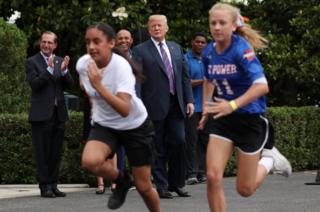 US First Lady Melania Trump, not seen in public since a hospital operation this month, has sought to scotch rumours about her health and marriage.
"Rest assured, I'm here at the @WhiteHouse w my family," a tweet posted on her account says.
Gossip has mounted in the 20 days since she was last seen, with President Donald Trump as he welcomed home three US detainees from North Korea.
The White House has already dismissed claims about the Trumps' relationship.
On Twitter, some suggested her husband had actually written the tweet that appeared on her account on Wednesday.
Skip Twitter post by @FLOTUS
I see the media is working overtime speculating where I am & what I'm doing. Rest assured, I'm here at the @WhiteHouse w my family, feeling great, & working hard on behalf of children & the American people!

— Melania Trump (@FLOTUS) May 30, 2018
End of Twitter post by @FLOTUS
On 14 May, the White House said Mrs Trump, 48, would be admitted to the Walter Reed National Military Medical Center near Washington DC for "an embolisation procedure to treat a benign kidney condition".
"The procedure was successful and there were no complications," a statement from the White House said after her release on 20 May.
But her five-day hospital stay for what was described as relatively minor surgery did little to stop tongues wagging.
She has not been pictured since then, and has only released one previous tweet referring to her medical treatment.
Wild theories have circulated online, including that Mrs Trump has moved back to New York with their son, Barron, or that she is co-operating with special counsel Robert Mueller.
After she skipped the White House Sports and Fitness Day on Wednesday – an event heavily promoted by former First Lady Michelle Obama – the speculation only intensified.
Ivanka Trump, the president's daughter and senior adviser, addressed the audience instead.
Skip Twitter post 2 by @FLOTUS
A sincere thank you to Walter Reed Medical Unit @WRBethesda & to all who have send good wishes & prayers! I am feeling great & look forward to getting back home @WhiteHouse soon.

— Melania Trump (@FLOTUS) May 16, 2018
End of Twitter post 2 by @FLOTUS
On Tuesday, the first lady's spokeswoman, Stephanie Grisham, told Politico: "Sadly, we deal with conspiracy theories all the time, so this is nothing new, just more silly nonsense.
"She is doing great. I wouldn't characterise it as a long absence. She was hospitalised for almost a week and is now home and recovering."
During her hospital stay, Mrs Trump tweeted about a school shooting in Texas, a Navy Seal who was awarded a Medal of Honor, and in support of the military on Memorial Day.
She earlier this month launched Be Best, an initiative to teach kindness to children.
Weeks ago, the White House rebutted claims the first lady was living away from the White House because she and the president were supposedly estranged.
The Washington Post reported on rumours that Mrs Trump was living with her parents, Amalija Knavs and Viktor Knavs, in a Washington suburb.
Such political gossip can seem as cyclical in the nation's capital as its cherry blossoms.
Unfounded claims were spread in Washington social circles during the last administration that President Barack Obama had filed for divorce from Mrs Obama.