May challenges Trump on impact of Iran sanctions
In a phone call dominated by Iran, the Prime Minister and President agreed to hold talks between the UK and US governments on the effect ofsanctions on British companies.
The sanctions clash came as some European countries, including France and Germany, served notice that they are considering counter measures to allow their firms to keep trading with Iran.
President Trump announced plans for sanctions when he confirmed on Tuesday that he was pulling the US out of the Iran nuclear deal – which he said was "rotten", "horrible" and "one-sided".
Within minutes of the President's announcement, Mrs May, French president Emmanuel Macron and German Chancellor Angela Merkel issued a joint statement expressing their "regret and concern".
And after her phone call with the president, a Downing Street spokesman said Mrs May had raised sanctions and re-stated her support for the Iran nuclear deal.
"The Prime Minister reiterated the government's position on the Iran nuclear deal, noting that we and our European partners remain firmly committed to ensuring the deal is upheld, as the best way of preventing Iran from developing a nuclear weapon," a spokesman said.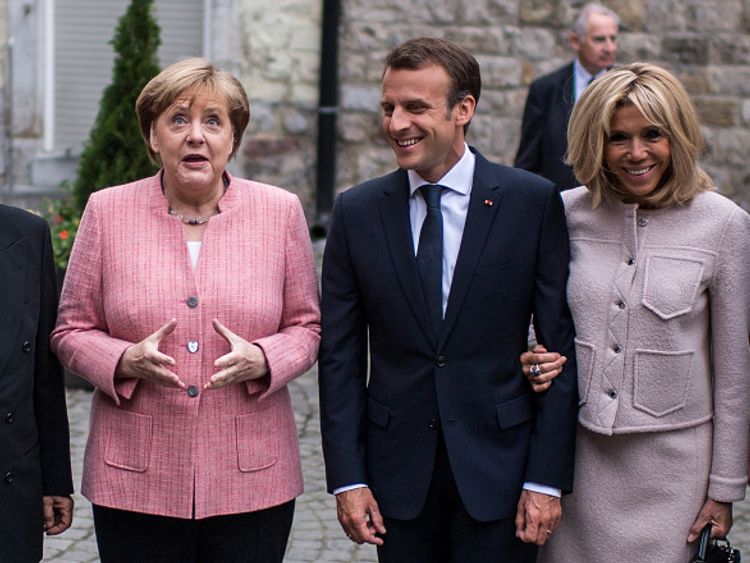 And the Number 10 spokesman added: "The Prime Minister raised the potential impact of US sanctions on those firms which are currently conducting business in Iran. They agreed for talks to take place between our teams."
Downing Street said the Prime Minister and the President condemned the Iranian rocket attacks against Israeli forces earlier this week, and strongly supported Israel's right to defend itself against Iranian aggression.
"They agreed on the need for calm on all sides and on the importance of tackling Iran's destabilising activity in the region," the spokesman said.
During the phone call Mrs May also congratulated the US president on the safe return of three Americans who had been held in prison in North Korea.
"The two leaders looked forward to the summit which will take place between President Trump and Kim Jong Un in Singapore," the spokesman said.
"The PM said the UK would continue to work with the US to keep up the pressure on North Korea to denuclearise."
The two leaders also looked forward to Mr Trump's visit to the UK in July, Downing Street said.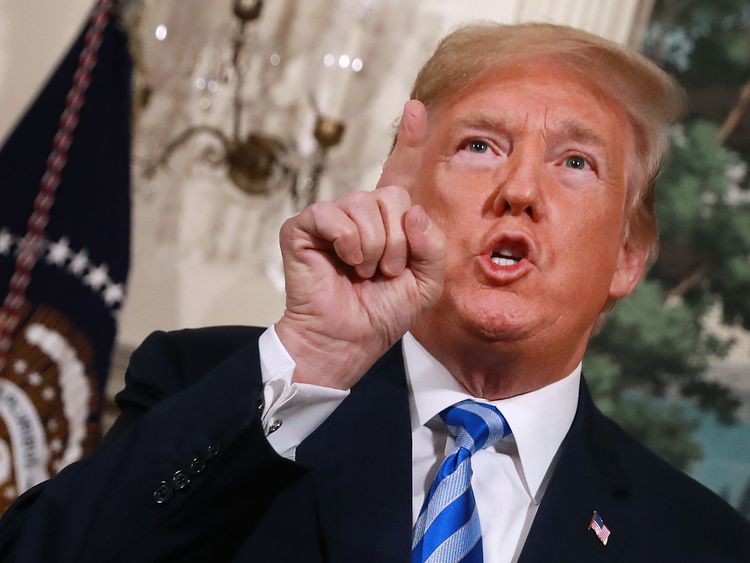 As Europe plots its response to President Trump's sanctions threat, Foreign Secretary Boris Johnson will meet his French counterpart Jean-Yves Le Drian in London on Monday to discuss the Iran crisis.
Mr Le Drian has already described the US sanctions as unacceptable, saying European business should not be required to pay for US foreign policy decisions.
And France's Finance Minister Bruno Le Maire said EU states would propose sanctions-blocking measures to the European Commission.
"Do we accept extra-territorial sanctions? The answer is no.," he said. "Do we accept that the United States is the economic gendarme of the planet? The answer is no."
Mr Le Maire said he was seeking concrete exemptions for French companies already present in Iran, including Renault, Total, Sanofi, Danone and Peugeot.
In her latest comments on Iran and sanctions, Chancellor Merkel said: "It is in our interest to have a strong transatlantic relationship."
But she added: "If everybody does what they like, then this is bad news for the world."
More from UK



Petrol bomber says he 'didn't mean to harm anybody' after four children die in fire




Prime Minister grants Grenfell survivors' request for extra panel members on inquiry




Brexit, austerity and immigration policies 'have made UK more racist'




VW Group set to 'recall up to 28,000' Volkswagens and Seats over seatbelt issue




Saturday's national newspaper front pages




Sky Views: Sanctimonious Oxford should honour Thatcher and May
Iran has said it had asked Europe's Airbus to announce whether it would go ahead with a plane deal with Tehran following the US pull-out.
US Treasury Secretary Steven Mnuchin has said that licences for its US rival Boeing Co to sell passenger jets to Iran would be revoked.