May and Trump discuss Brexit, Yemen and Israel in phone call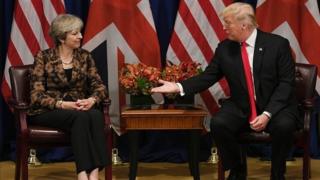 Theresa May has discussed Brexit and events in the Middle East in a pre-Christmas phone call with Donald Trump.
It is the first time they have spoken since last month's diplomatic spat over the US president's re-tweeting of anti-Muslim videos by a UK far-right group.
No 10 said the two agreed on the importance of a "swift" transatlantic trade deal after the UK leaves the EU.
Mrs May also reiterated her opposition to Mr Trump's plan to recognise Jerusalem as the capital of Israel.
Mr Trump said last month that he intended to move the country's embassy from Tel Aviv to Jerusalem, a shift in longstanding US policy which has been criticised by European allies and much of the Arab world.
The two leaders, who last met in September, had earlier clashed over Mr Trump's apparent endorsement of inflammatory tweets posted by a senior member of Britain First.
No 10 described his actions as wrong which prompted the US president, in return, to chastise Mrs May on Twitter and urge her to focus her attention on tackling Islamic extremism.
In a summary of Tuesday's phone call, Downing Street said the two leaders had covered a range of issues, including the humanitarian situation in Yemen amid the continuing conflict in the country.
No 10 said the two leaders agreed "on the vital importance of reopening humanitarian and commercial access to prevent famine and alleviate the suffering of innocent Yemenis".
On Israel, the leaders discussed their "different positions" on the US recognition of Jerusalem as the Israeli capital, agreeing "on the importance of the US bringing forward new proposals for peace and the international community supporting these efforts".
Downing Street added: "The prime minister updated the president on the recent good progress of the Brexit negotiations, and the president set out the progress he had made on his economic agenda.
"They agreed on the importance of a swift post-Brexit bilateral trade deal."
Mr Trump has repeatedly said he was wants to strike a quick trade agreement with the UK after it leaves in March 2019 but experts have said it will take years to negotiate.
Soon after he took office in January, Mr Trump was invited on a state visit to the UK but no date has been set for the trip amid criticism from MPs of the president's conduct and stance on key issues.