Mauricio Pochettino: Tottenham manager says club must 'take risks' to improve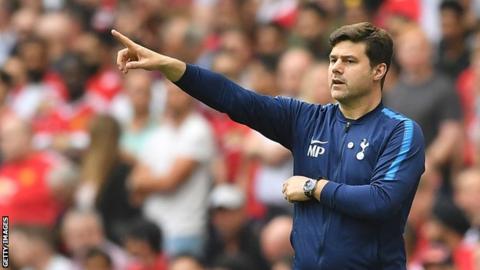 Tottenham manager Mauricio Pochettino wants to discuss his future with chairman Daniel Levy, and says the club must "take risks" to improve.
Spurs beat Leicester 5-4 on Sunday to secure a third successive top-three finish in the Premier League.
But the club have not won a trophy since the League Cup in 2008, and have spent less than their top-six rivals.
"If we want to be real contenders for big, big trophies, we need to review a little," Pochettino said.
"First of all, I need to speak with Daniel, then we will know what we are going to do.
"I think it's a moment the club needs to take risks and if possible work harder than the previous season to be competitive again."
Argentine Pochettino, 46, took over at Spurs in 2014 and has led the club to fifth, third, second and third-placed finishes in his four seasons.
But they have spent £184.59m on players in the past two seasons, less than Manchester City, Manchester United, Chelsea, Arsenal and Liverpool over the same period.
Pochettino has been linked with a move from the club and following their FA Cup semi-final defeat by Manchester United in April said the club "need more time with me or another".
This season they were knocked out of the Champions League in the last 16 by Juventus.
"I think I have a very clear idea what we need to do; I don't know if the club will be agreeing with me or not," Pochettino said.
"But we are going to talk, next week, to create the new project, or what I think what we need to do, together again, to try to improve.
"That is a little bit up to Daniel of course, to the club, to be happy with us, because after four years I think we need to assess that period.
"I think Daniel is going to listen to me. But you know me and sometimes I have some crazy ideas.
"In this type of situation, with a club with our unbelievable fans, being brave is the most important, and to take risks."