Match of the Day: BBC extends Premier League highlights deal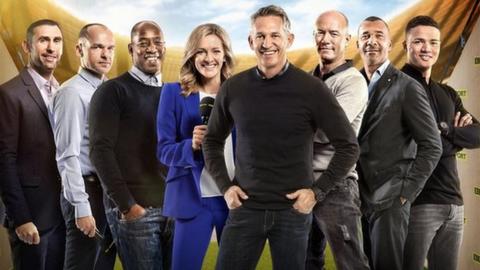 Match of the Day will show Premier League highlights until at least the 2021-22 season after renewing its contract for a further three years.
The £211.5m deal – up from £204m – also includes Match of the Day 2, Football Focus and The Premier League Show.
MOTD and MOTD2 attract a combined audience of more than seven million each weekend.
Barbara Slater, director of BBC Sport, said the deal highlights the show's "continued success and popularity".
Now presented by former England captain Gary Lineker, Match of the Day was first broadcast on BBC Two in 1964.
Charlotte Moore, director of BBC Content, said: "To secure the Premier League highlights for another three years is fantastic news for football fans all over the UK and ensures the BBC remains the free-to-air home with the iconic Match of the Day at the heart of all the action."
Last season, the BBC's Premier League football programming was watched by 37 million people, and there were a further 40 million requests for these shows on BBC iPlayer.
Earlier this month, the BBC and the Premier League started a campaign called Super Movers to help primary school teachers encourage children to become more active.
"Our longstanding partnership with the Premier League continues to flourish and evolve as seen with the recently launched Super Movers initiative," Slater added.
"The new deal strengthens that relationship even further and ensures the nation's favourite sport will continue to be seen by the widest possible audience."
MOTD through the years
The iconic show's first broadcast featured Liverpool's 3-2 win over Arsenal on 22 August 1964.
It was originally intended as a one-off series – a trial run for the 1966 World Cup – but continued, and was broadcast in colour for the first time in 1969.
Barry Stoller's classic theme tune, commissioned in 1970, was named as the most recognisable in British television in a survey by the Performing Rights Society for Music in 2010.
Match of the Day 2, an accompaniment to the main programme, was broadcast for the first time on 15 August 2004.
In April 2007, Jacqui Oatley became Match of the Day's first female commentator, while Celina Hinchcliffe became the first female presenter in February 2005 and Gabby Logan has since regularly hosted the show.
Lineker is the fifth main Match of the Day presenter after Kenneth Wolstenholme, David Coleman, Jimmy Hill and Des Lynam, who Lineker succeeded in 1999.