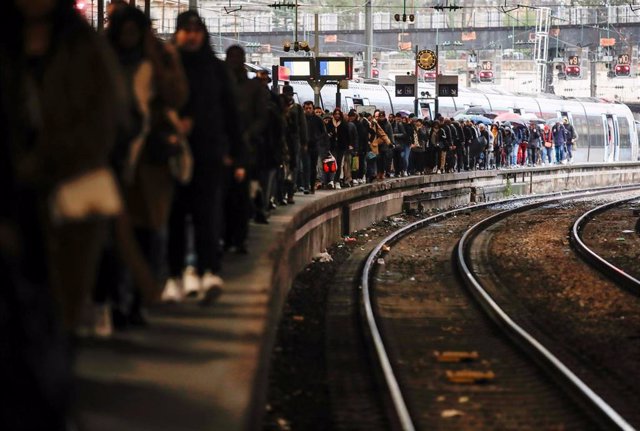 Indefinite transport strike against pension reform. Saint-Lazare station in Paris – REUTERS / CHRISTIAN HARTMANN
PARIS, Dec. 9 (EUROPE PRESS) –
The indefinite strike in French transport that began last December 4 has had a massive follow-up on Monday again and has caused the collapse in the transport system of large cities such as Paris, with crowded meters and suburbs despite the express request of transport companies not going to the stations.
Massive follow-up on a new day of strike in transport against labor reform in France
The machinists of the National Society of French Railways (SNCF) have seconded the strike to 77.3 percent, which has resulted in "very disturbed" traffic, with nine of the 16 Paris metro lines closed and a frequency very Low by another five.
The rainy weather has caused many citizens to have turned to the car, which has brought almost 600 kilometers of traffic jams in the morning rush hour in the region of the Isle of France, where Paris is located.
With this new show of strength and after the presence last Thursday of 800,000 protesters in the streets, the pressure on the Government and its pension reform initiative is maintained.
The complete project will be presented next Wednesday, but the unions fear that it will lead to a masked precariousness with the unification of the 42 existing schemes from 2025.
Among the concerns expressed by the unions is that the calculation of pensions is made by virtue of the income earned throughout the working life and the suspension of early retirement plans for officials such as public transport workers and medical personnel.