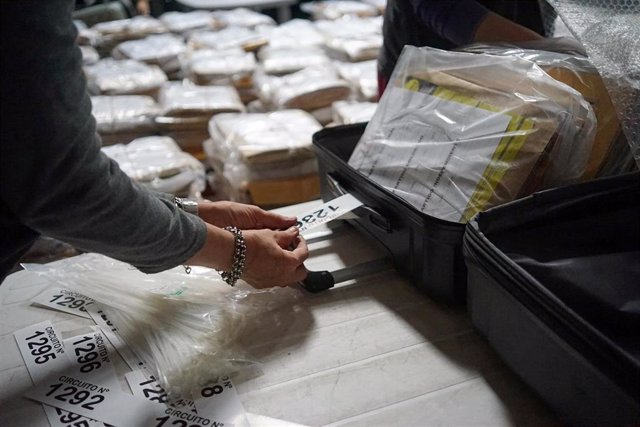 Presidential elections in Uruguay – REUTERS / MARIANA GREIF – Archive
MADRID, Nov. 25 (EUROPE PRESS) –
The presidential candidate of the ruling Frente Amplio (center-left) of Uruguay, Daniel Martínez, and his rival of the right-wing National Party center, Luis Lacalle Pou, are facing a possible technical draw after the second round of the presidential elections is held, as shown by the preliminary data
Lacalle Pou has so far been made with 48.8 percent of the support compared to 47.5 percent obtained by his political rival, according to the results issued by the Electoral Court with 97.7 percent scrutinized.
The adjusted results mean that the Court cannot even announce the winner of elections to which Lacalle Pou has been a favorite. Projections made by Enia with the local newspaper 'The Observer' indicate an advantage of just over 1 percentage point for the National Party candidate, as reported by the newspaper.
The Electoral Court has indicated that the difference between both candidates is 29,605 votes at the moment, less than the 35,262 votes observed (representing 1.3 percent of the ballots). This means that we will have to wait until the observed votes are known to know who is the winner. To overtake Lacalle Pou, Martinez would have to take at least 93 percent of those ballots.
The political consultant Factum has indicated in its Twitter account that the data of the Electoral Court shows that at the end of the primary scrutiny there is a "technical tie, with a greater chance of victory for Luis Lacalle".
Thus, he said that "the difference will be between 28,000 to 31,000 votes" while "the observed votes are more than 35,000." The company's projections point to 48.2 percent of support for both candidates and 3.6 percent of blank or voided ballots.
The votes observed are those cast by people who have not been able to vote at their tables and circuits. The presentation of these ballots is done through a special procedure to certify the validity of the votes, so the calculation of the ballots is slower than that of the rest of the ballots.
The Electoral Court has said that in the face of such a small difference, the results of the elections will depend on the votes observed, so the announcement of the winner will not be known until "Thursday or Friday", according to the Uruguayan newspaper 'El País'.
Militants of the National Party and the Frente Amplio await for the moment in front of the headquarters of the formations, where the followers of Lacalle Pou and Martínez maintain caution and hope.
At the headquarters of the Frente Amplio, located in the Crystal Tower hotel, the weather is joyful since they see the gap between the candidates as a sign of "victory."
Meanwhile, at the headquarters of Lacalle Pou, on Artigas Boulevard, the atmosphere is uncertain due to the tight difference, which does not allow a clear winner to be announced. "We have to wait," insist those present.
Regarding participation, at least 90 percent of the census would have gone to the polls, according to data from the Electoral Court. In total, in this second round there are 2,699,877 citizens qualified to vote.