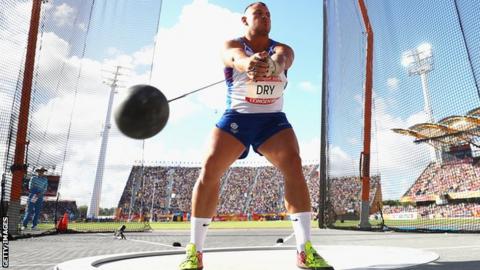 Scottish hammer thrower Mark Dry is hoping to find funding for a hip operation "as soon as possible".
Dry needs surgery for a complete new metal or ceramic hip, which would require a four to six-month recovery.
The 30-year-old won his second Commonwealth Games bronze medal at the Gold Coast Games last month.
Mark Dry: Hammer thrower in limbo awaiting hip surgery funding
"I just need to get it done, but we need to make sure it's the right decision because it could change quite a lot," he told BBC Scotland.
"Everything's a little uncertain with surgery. We've spoken to the surgeon and we're waiting on decisions between how we're going to go and when we're going to do it and who's going to pay for it and that is the most frustrating thing at the minute.
"I don't know who's going to pick up the tab because I'm not on the British Athletics programme any more.
"I don't know if the Scottish Athletics medical covers for the Commonwealths only and the two years before the Commonwealths or if it's an ongoing thing that I can be covered by, but I know it's a different system than British Athletics."
'I can't tie my shoelaces'
Dry says his hip is "full of fluid" and the discomfort causes "throbbing".
"Walking any sort of distance gets really painful," he explained. "I can't tie my shoelaces.
"I'm managing it well and I'm almost used to being in pain all the time, but it's exhausting. I just feel tired. I can literally feel it wearing me down all the time.
"The extent of the damage is just massive. There's just nothing left of my hip. There's no cartilage, no ligament holding it together.
"To come through all that and come back and get the medal, I can't quite understand it. Everyone just assumes that there's nothing wrong with me."
Dry has previously had operations on his hip and missed last year's world championships.
However, he believes he can compete at the Tokyo 2020 Olympics and the Birmingham 2022 Commonwealth Games if he gets the funding for surgery.
"I've got another four years in the tank, which is absolutely the plan – to get this done as soon as possible so that I can have the season off," he said,
"Not off, I don't want it off, but it would give me a full winter to recover to compete next season, to stabilise – it probably wouldn't be that special next season – to then have another full winter to come back for Tokyo and then really challenge, push for a medal.
"And then move forward to Birmingham 2022."